Apple Shortcuts, Keyboard Shortcuts, and Major Performance Gains – Things 3.15 is here for macOS Monterey and it's all about speed. 🚀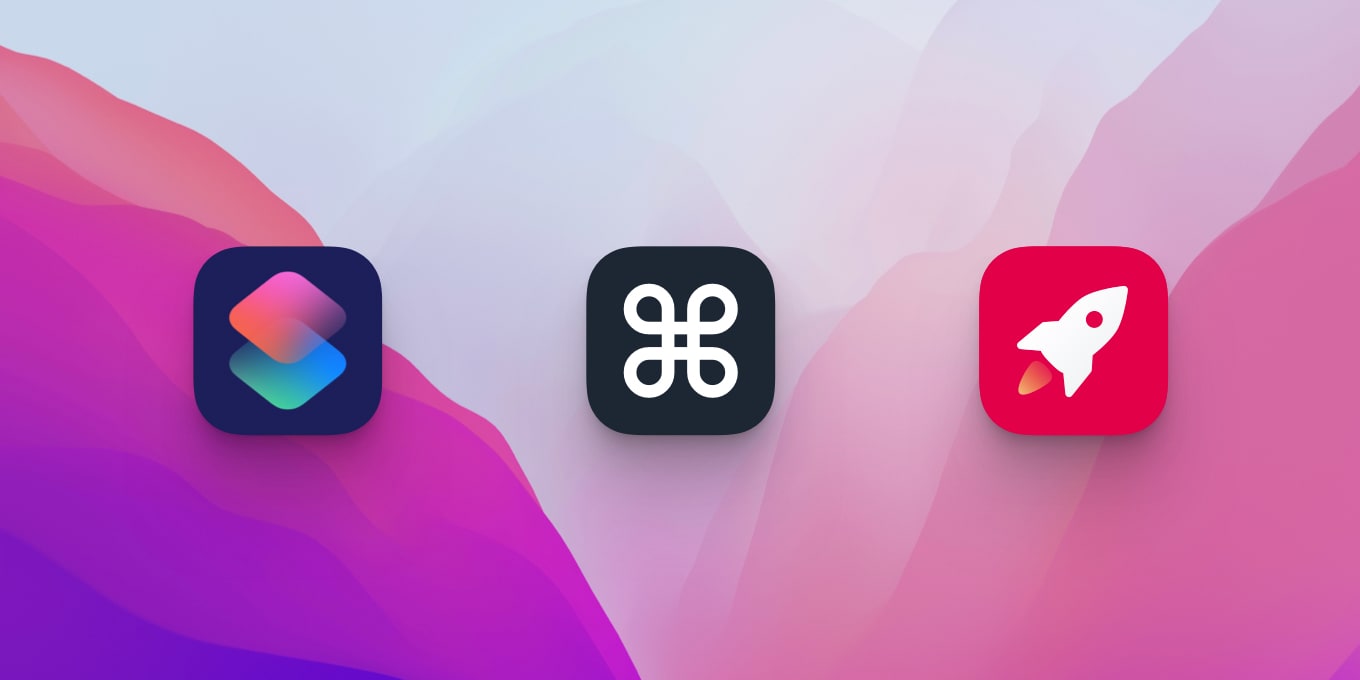 Apple Shortcuts for Mac
Life-hacking corner-cutting super-nerds rejoice! Apple has brought the Shortcuts app to Mac and we've built integration with Things. This means you can run shortcuts seamlessly across all your devices. 🎉
For those who haven't tried the Shortcuts app yet, here's a simple example. Say you want to do something over and over, such as create a to-do in your "Personal" list and apply the tag "Errand". Instead of filling out the details every time, you can create a shortcut that fills it out for you. Use Things' Add To-Do action in the Shortcuts app to set this up: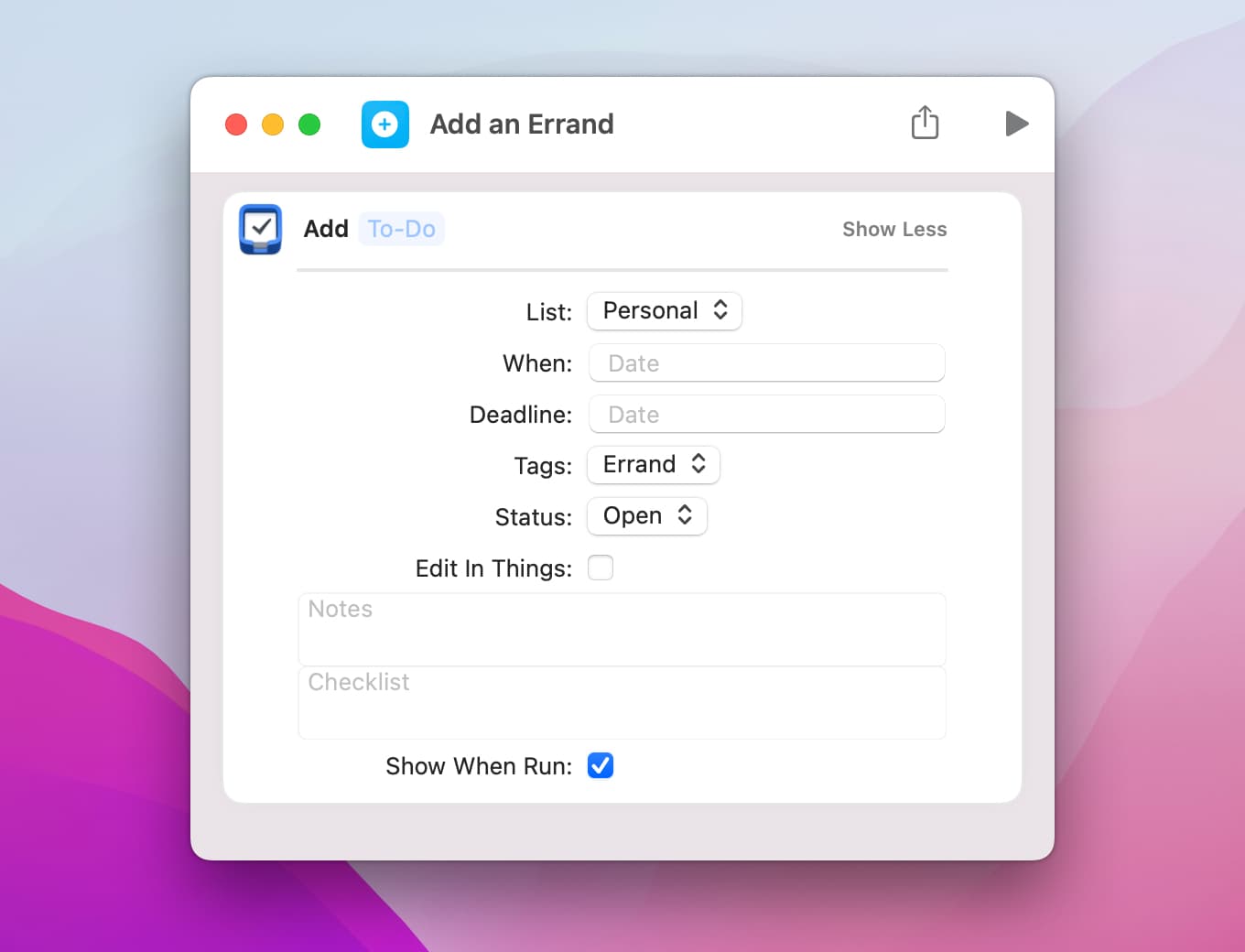 Give your shortcut a name, like "Add an Errand", and then try running it:
On iPhone, you can say "Hey Siri, add an errand."
On iPad, you can hit Cmd Space and type "add an errand".
On Mac, you can assign a keyboard shortcut, or use the new Shortcuts menu at the top of your screen to quickly get at your favorites.

Try it yourself
We've created a few example shortcuts for you to download and try out. Click one to add it to your Shortcuts library. Once you've added a shortcut, you'll be able to customize it to suit your own needs.
Quickly create a new to-do with your Errand tag already applied.
Create a packing list instantly and set the deadline for when you fly.
Create a list of essential groceries with just a few taps.
Save your co-ordinates to revisit later. Handy when exploring new places.
Open the Deadlines list filtered by your work tag.
Split your screen between Things & Calendar to do your weekly review. (Mac & iPad only)
Of course, you can also create your own from scratch in the Shortcuts app. Have fun experimenting and looking for ways to speed up your workflows – but beware! 🤓
For more information about the Shortcuts app, see Apple's documentation.
Major Performance Gains
Over the past months we've put a ton of work into improving performance. We've changed how lists operate under the hood and unified large portions of our Mac & iOS code. The resulting speed boost will be most noticeable for those with very large databases and many projects, but the app will generally be snappier for everyone.

There were also a few situations where Things would behave differently on Mac & iOS. As an added benefit, our work on code unification has eliminated such quirks, providing a more consistent experience across devices.
International Keyboard Support
Another improvement in this release is for shortcuts of a different kind: keyboard shortcuts.
With the release of macOS 12 Monterey and iPadOS 15, keyboard shortcuts can adapt to your specific keyboard layout. Apple's own apps have adopted this behavior on Mac and iPad, and we've now built it into Things.
If you have a US keyboard, your shortcuts won't change. On non-US layouts, shortcuts involving letters will mostly stay the same, but shortcuts with special characters will now be easier to type – and some that were previously impossible to use can now be typed for the first time!
Check out our updated keyboard page for your layout. You can also look in the menus on Mac, or hold down Cmd on iPad.
Further Improvements
We've also brought many of the great new improvements from our recent iOS release to the Mac:
Widgets let you choose which list the "+" button saves to.
Things uses time-sensitive notifications so your reminders get through even when you're in Focus mode.
When importing from Reminders, Things also imports your tags.
Things integrates with Quick Note: View a list in Things, then switch to Apple Notes and click the "Add Link" button.
---
All these improvements are available now in Things 3.15 for Mac and Things 3.15.5 for iPhone & iPad.
Don't forget that if you want to use Apple Shortcuts on your Mac you'll need to upgrade to macOS 12 Monterey first. We hope you enjoy using Shortcuts across your devices and look forward to seeing what you build with it!