The default, date-based lists in Things allow you to control when tasks come to your attention.
In Things, you can look at your to-dos from two different perspectives: The first is context, provided by areas and projects that you create yourself. The other way to view to-dos is by looking at when you are going to do them.
Things provides several default lists that help you plan the current day, and what you want to achieve in the future. This page explains the purpose of each of these default lists.
Today & This Evening
Today is the list for to-dos that you want to start before the day ends. They're your priorities.
Think of it as a filter across the entire app: if the start date, deadline, or repeating rule of any to-do matches today's date, it shows up here. Enable calendar integration to also see today's calendar events at the top.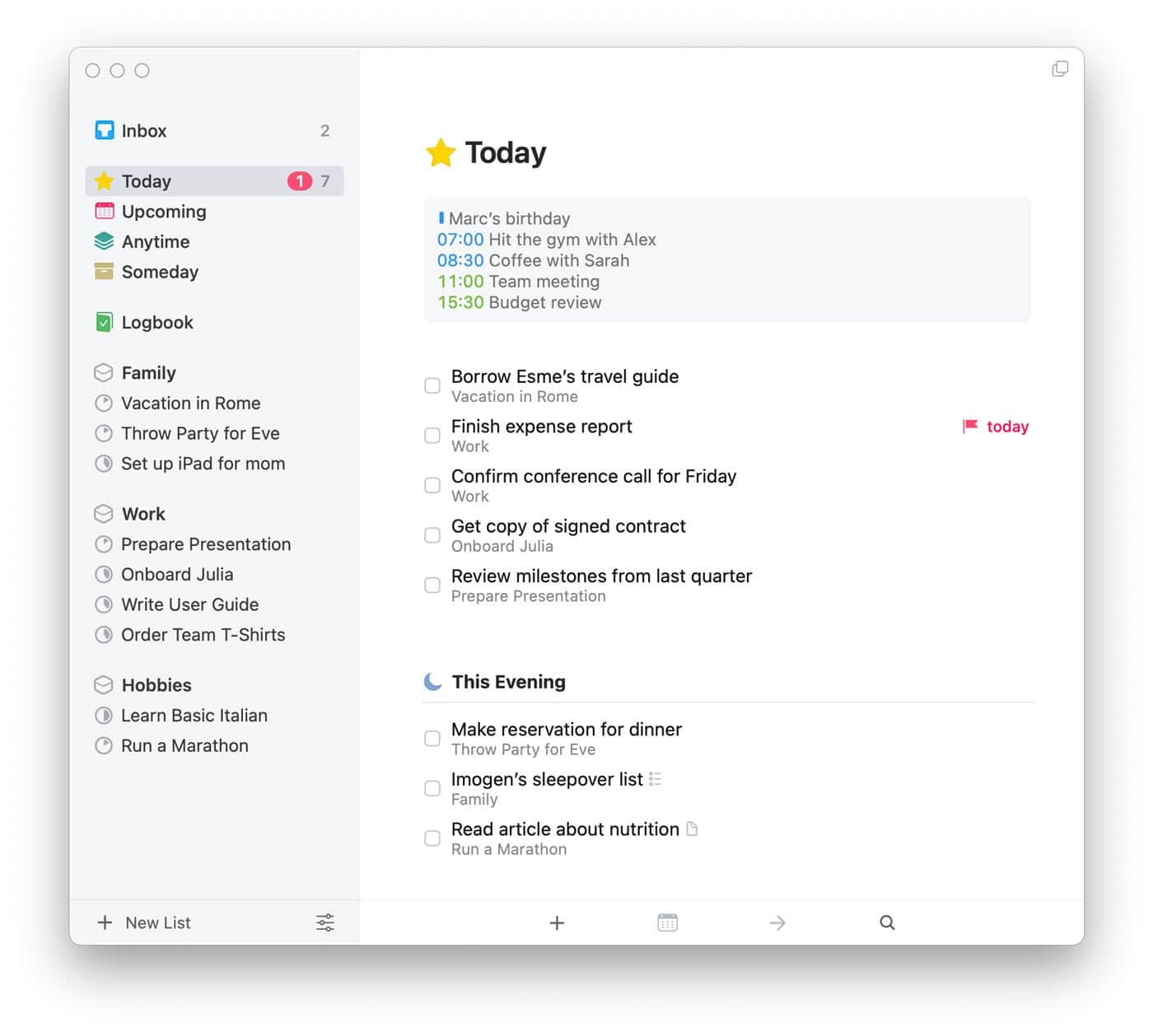 Ideally, start the day by quickly reviewing the list – Today should contain only those tasks that must get done today. Then, drag and drop to-dos into the order you'll most likely tackle them. Pick whatever is at the top when you come back throughout the day.
💡Tip: If your list is very long, you might prefer having it grouped by project or area instead. Enable this in Things → Settings → General. This setting will sync to your other devices.
If something needs to be handled later in the day, assign it to This Evening. These to-dos will move into their own section at the bottom – still present, so you know there's more to do, but unobtrusive enough to not bother you until you have time.
Reward yourself at the end of the day by clearing Today – tick off everything you've accomplished, and reschedule leftovers for another day. When tomorrow comes around, you can start with a clean slate and your list will always stay relevant.
Upcoming
The Upcoming list is your future agenda: a place for tasks that you can't tackle right now but want to conquer on a specific day down the road.
For example: It's the middle of the week, and you realize that your bedroom needs a new coat of paint. This is more of a weekend task, and you don't need to see it during the workweek. Simply schedule the to-do for next Saturday, then forget about it. Come Saturday, it hops into Today, a gentle nudge of commitment.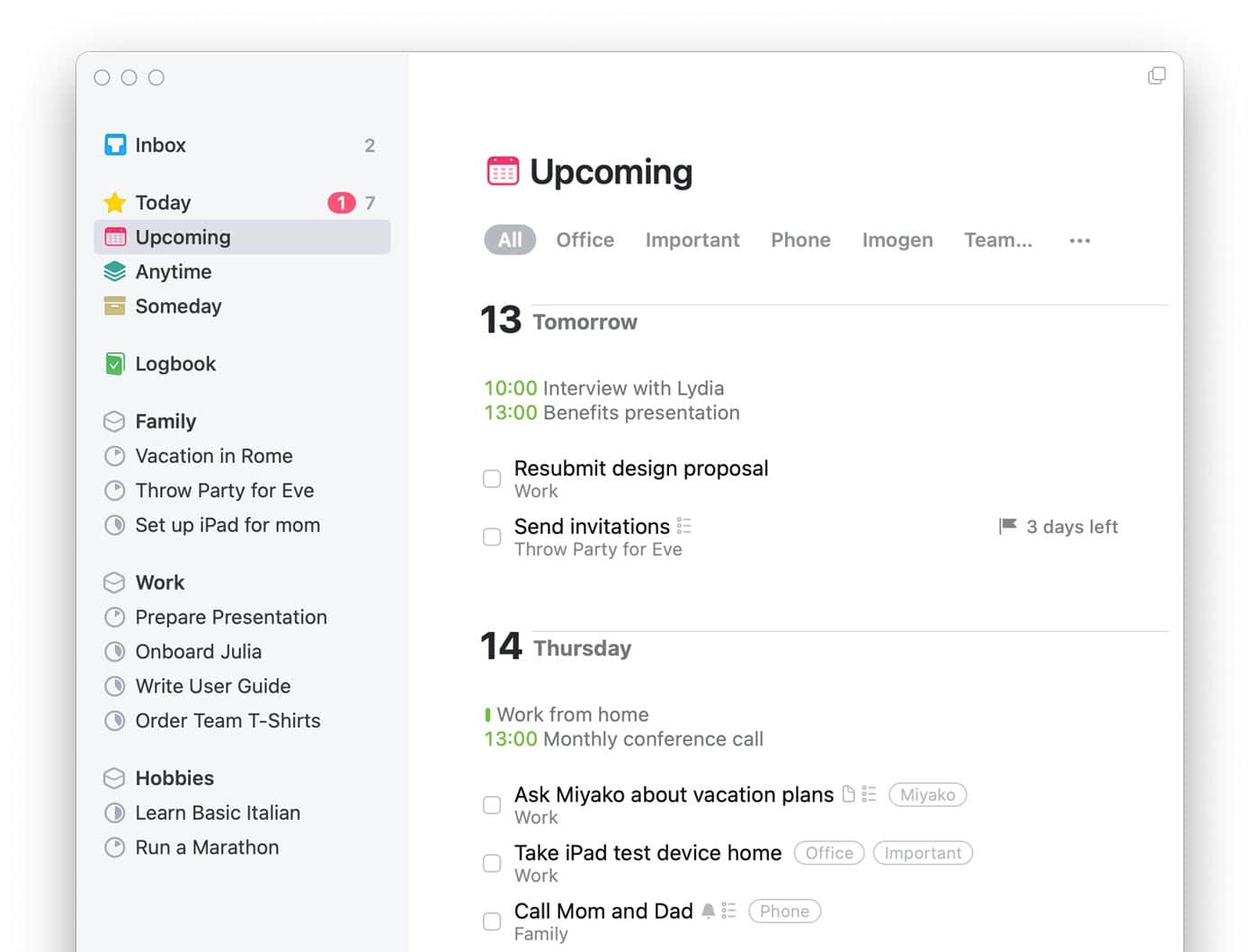 At the top of Upcoming, you'll see the next seven days listed separately, starting with tomorrow. This bird's-eye view of the upcoming week helps to prevent overloading a single day during your weekly review, and you can tell at first glance what's next. Change a to-do's start date by simply dragging and dropping it on another day.
To ensure your focus remains on what you can do right now, projects with start dates disappear from the sidebar (Mac/iPad) and the main lists view (iPhone) while they're in hibernation mode. Within projects, inactive to-dos take a back seat beneath their active counterparts.
Once their start date arrives, the inactive to-dos from Upcoming transform into actionable items in Today and projects reappear in the sidebar.
Scheduling To-Dos
Learn how to plan to-dos and projects to see them when they become relevant.
Anytime
As the name implies, the content in Anytime can be tackled "at any time" – nothing's blocking you from working on any task in this list right now. Because the list contains only active to-dos, its contents and what you see in Upcoming and Someday are mutually exclusive.
Unlike tasks with future start dates, those with deadlines will remain in Anytime as they are active and can be tackled at any time.
Additionally, Today's tasks will appear in Anytime with a yellow star in front of them because they are also active tasks that can be done at any time. Once you've completed these priorities, come back here and pick out more tasks.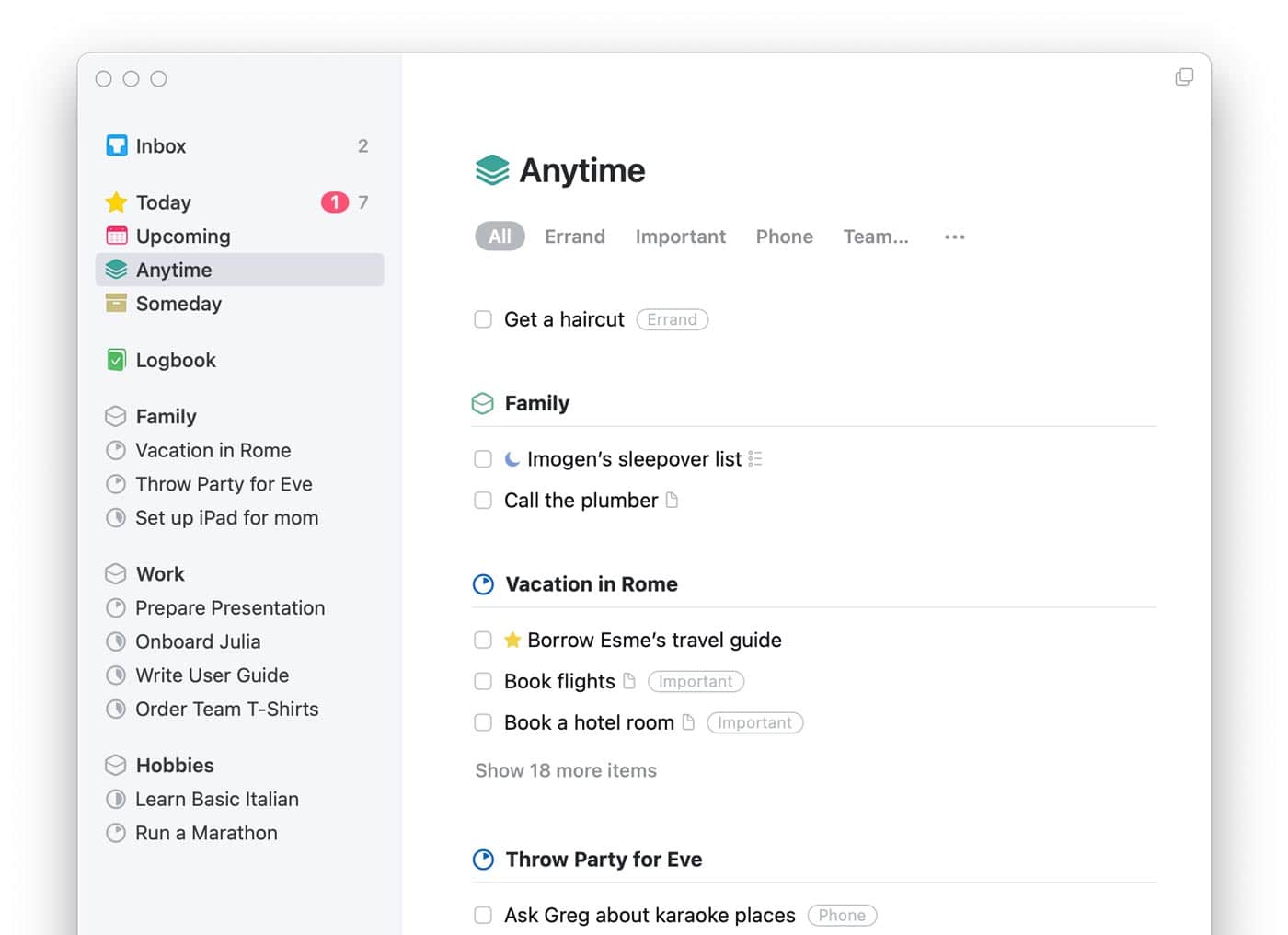 The order of to-dos in Anytime reflects the sidebar/main lists view: loose to-dos without a parent (project or area) float at the top, and then to-dos are grouped under their direct parent list. If one of your projects or areas doesn't contain any active to-dos the list's name will not appear here, to keep everything tidy.
Someday
All the other date-based lists contain to-dos that you have a very clear vision for: they are ready to be tackled at any time, or when their start date arrives.
The content in Someday falls on the other end of the spectrum: there's no plan for it yet, and you might decide to discard some of it eventually.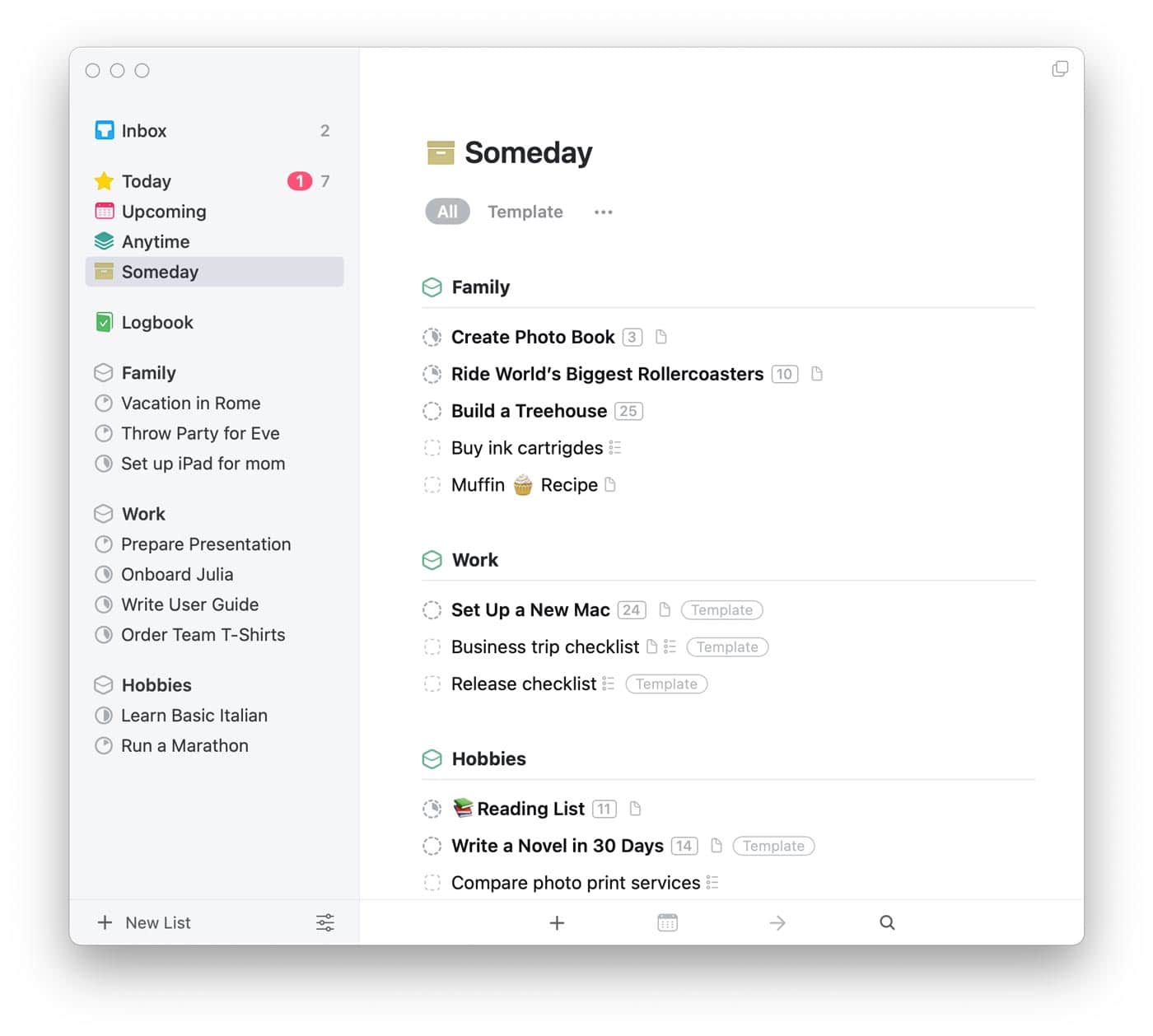 Why, then, would you keep something so vague around? Well, let's be honest – we don't always have all the answers right away, or the time to look for them.
Picture this: you stumble upon an article about watercolor painting and think, "Hey, that could be a cool hobby!" Or maybe a friend shares something about their job, and you get an idea for improving your own workplace. With either one of these ideas you might lack a clear starting point or the time to dive in right now. Instead of dismissing them, though, capture these ideas to Someday. This keeps them safe until you can think more about how or if you want to realize them.
While they slumber in Someday, neither to-dos nor projects will show up in Anytime or Upcoming, and inactive projects disappear from the sidebar. They are also designed to take a backseat visually. This way, these inactive items won't distract you from what's actionable right now.
Review this list every couple of months. Nothing here is urgent, but you might find that – as time has passed – your perspective on some ideas has changed, and you finally have the time look into watercolor classes.
Inbox
Although not a date-based list, the Inbox is one of Things' default lists. It's a temporary staging ground for your unprocessed thoughts.
You can send tasks here via Mail to Things, Quick Entry on the Mac, or by adding to-dos while you are in other apps. It's ok if you don't know the exact title for these tasks yet, or haven't added any details. The purpose of the Inbox is simply to catch everything you throw at it.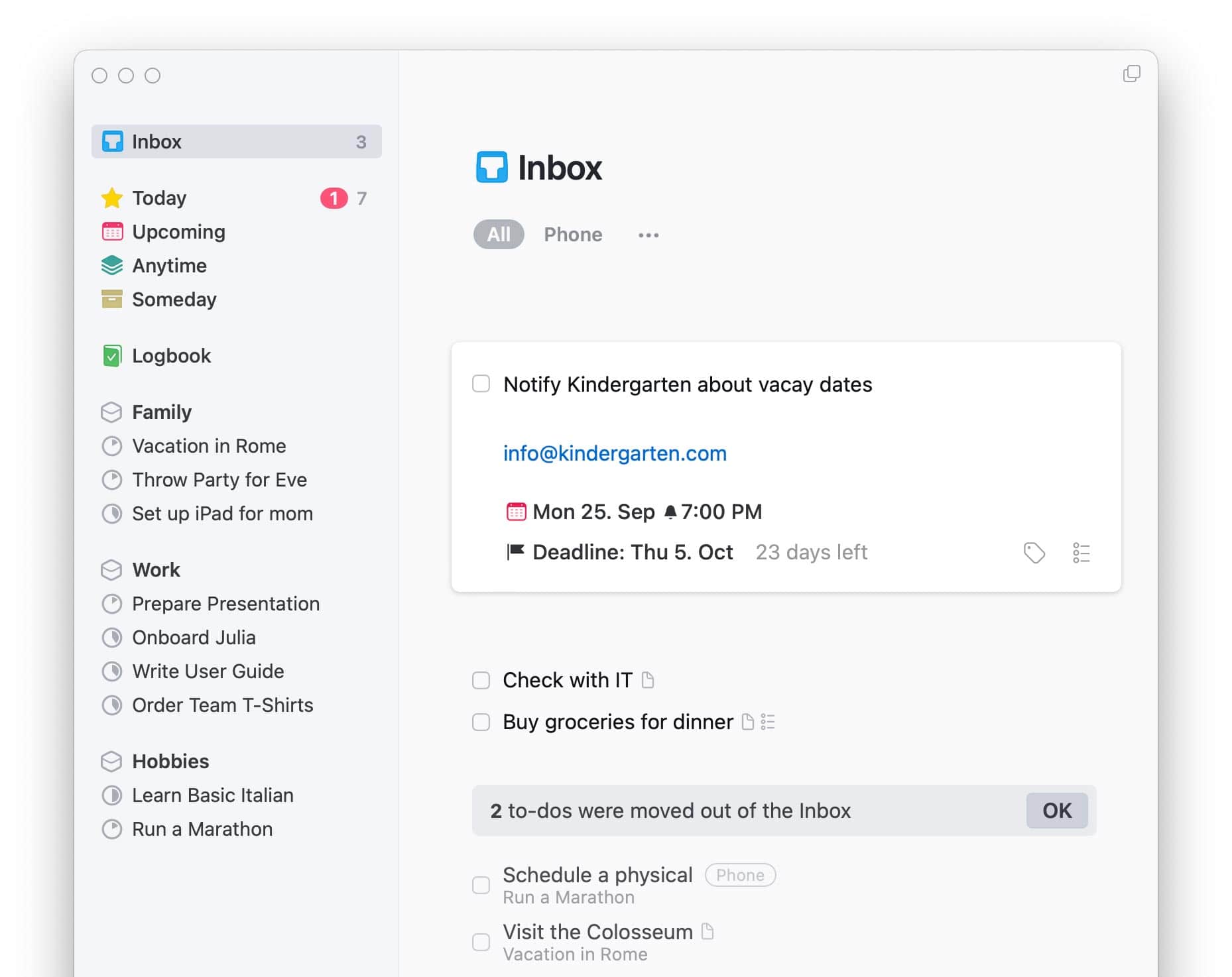 Of course, after filling it up, you'll also need to empty it out and turn every thought, email, or link into a proper to-do. Treat yourself to a high-five every time you get to "inbox zero". 🙌
After you've moved a to-do to a list, or assigned it a future date, it'll move out of the Inbox. A temporary section will appear at its bottom, labeled "x to-dos were moved out of the Inbox". It'll disappear once you jump into another list, so feel free to ignore it.
Logbook
For completeness' sake, the last default list – the Logbook – deserves a short mention. It serves an as archive: all your completed or cancelled to-dos and projects end up here.
To include logged to-dos or projects in a search, follow the tips here. If you want to review only logged projects, type "Logged Projects" into search. Every logged item stays in the Logbook indefinitely, a complete reference for everything you've achieved in the past.
If you want to clear it out, you can use ⌘ Cmd A to select everything on Mac or iPad. On iPhone, you'll have to create a custom Apple Shortcut to do it for you, or use the multi-select gesture to grab batches of to-dos to delete them. Deletions on iPhone and iPad are permanent and can't be undone. On Mac, empty the Trash to permanently erase content.