During Apple's promotion of Things for iOS last week, the apps climbed the charts to #1, racking up over three million downloads along the way. This is a fantastic number. We want to say a big Welcome to all our new users—there have never been so many people using Things!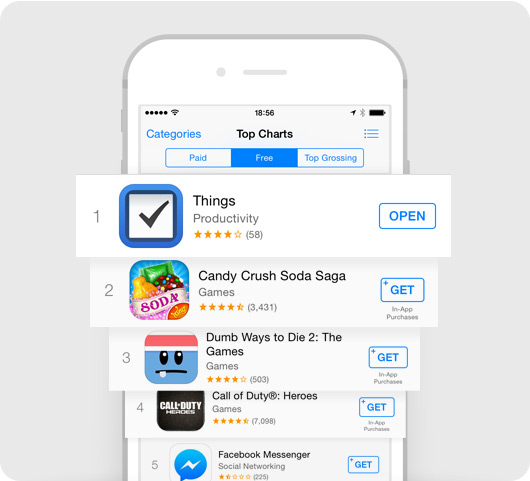 We're pleased to say that Things Cloud has handled the considerable surge in traffic flawlessly. There's no better way to test the merits of a cloud service than to have it scale so quickly, and it's great to know that Things Cloud has the chops.
Things for Mac also rose to #1 in the Mac App Store in many countries. We had planned to keep it on sale for just the week, but decided to extend it so that anyone still using the trial has time to take advantage of the deal—get it before Friday, December 5th and save 30%. This promotion has now ended.
Apple's promotion has driven a lot of traffic to our website, and we were excited to see that over half a million people have already read the Getting Started guide since last week. If you're new to Things, it's a great place to start.
We've now turned our attention back to Things 2.6 for iPhone and iPad, which includes the new Today Widget for Notification Center. That update is now in alpha and we hope to be able to submit it to the App Store soon.