Update: This promotion has now ended.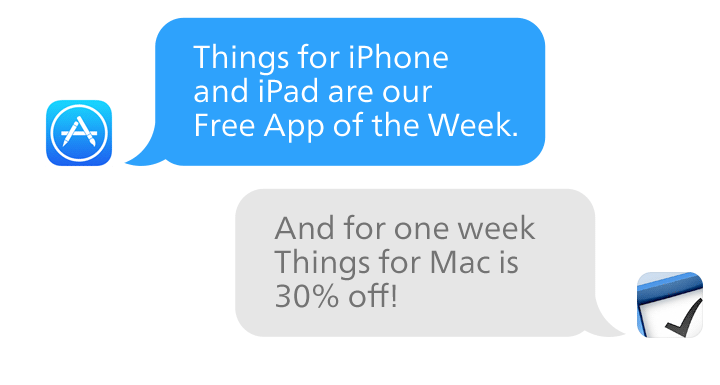 As a special gift for Thanksgiving, Apple has chosen Things for iPhone and iPad as their Free App of the Week—a worldwide promotion that makes both apps free for everyone, for the first time ever. This is a fantastic opportunity to get your hands on these award-winning productivity apps.
All three versions of Things have recently been updated with a fresh new design, and had great new features added for iOS 8 and OS X Yosemite—such as the Add to Things extension for creating to-dos from other apps, support for Handoff across all your devices, background refresh, support for the iPhone 6 and 6 Plus, and a Today Widget for OS X.
Only the iOS apps are being promoted by Apple this week, but that doesn't mean we can't help you get the Mac app, too! So this week only, you can get 30% off Things for Mac as well. This promotion has now ended.
Getting Started with Things
Things provides a world-class sync service that keeps all your devices up-to-date. It's fast, reliable, and entirely free. Once you've installed the app, just go into the settings, turn it on, and create an account. Be sure to log into the same account on your other devices, and all your projects and to-dos will instantly sync between them.
As you begin using the apps, you'll find that they are designed to be very light-weight and easy to use—getting organized with Things is fun. To get you started, we've prepared a short guide on how to get the most out of Things.
Of course, you can also find information about the apps on our support page, and our support team is always here to help with any other questions you might have.
Spread the Word
We hope you'll find a lot of benefit from using Things. If you think your family or friends might also like the apps, be sure to let them know about this promotion before Friday, November 28—that's when it ends!
You can share the news on Facebook or retweet our announcement on Twitter.
Happy Thanksgiving!