It's a big day for the iPad! Apple is shipping out their new Magic Keyboard, which for the first time includes a trackpad that lets you control an on-screen cursor. We've now updated Things with full support for it.
Apple surprised us all last month when they added cursor support to iPadOS. Even though apps get basic cursor support "out of the box", there's a lot developers can do to make the experience great. That's what we've done for today's release.
The good news is, this feature works with any Bluetooth trackpad or mouse, so if you've got one lying around you can play with it right now 🎉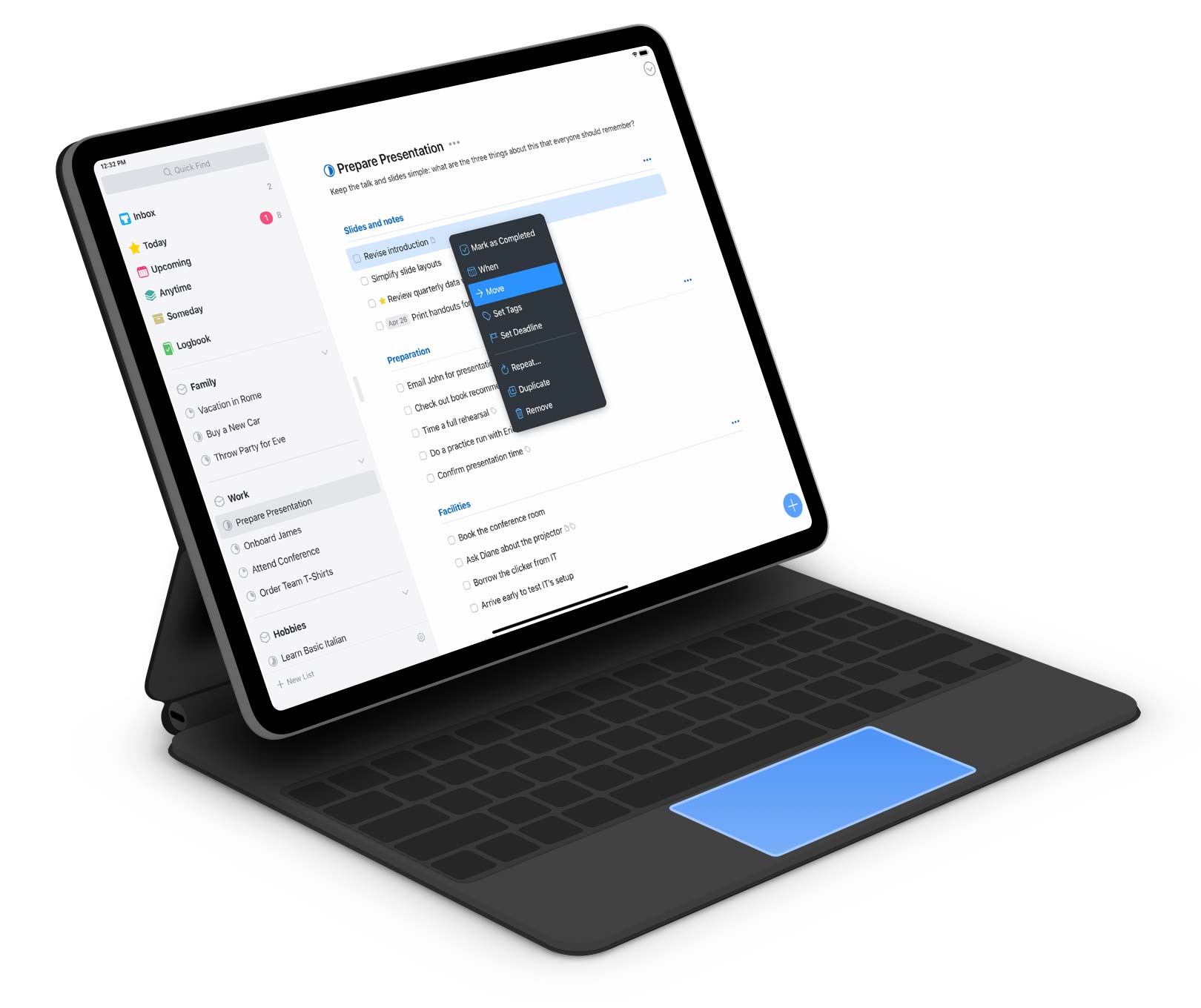 The first thing you'll notice when you connect your trackpad is that Things' entire interface responds to the cursor. As you move it near a button, for example, or a to-do's checkbox, it now magnetically "hops" into place and takes on the shape of whatever you're clicking. It's quite playful!
Of course, there are all the normal benefits you would expect from using a "mouse" – you can click, select, drag & drop, just like you would on a Mac – but it has also made a few other great features possible.
New features
Context menus everywhere. You can now right-click stuff! This will reveal context menus with powerful actions. To see what's possible, right-click a to-do, project, or area. It also works for lists in the sidebar like Today or Upcoming.
Open a new window. New windows are now just a click away: right-click a list in your sidebar and you'll find the option to Open in New Window. This puts Things into Split View so you can see your two lists side by side. To close one of the windows again, just hit Cmd W.
Swipe gestures. As a touch-based app, Things for iPad has many great gestures available. We've now made these work for the trackpad as well; just swipe with two fingers. For example, swipe right on a to-do or project to schedule it, swipe left to enter selection mode, or swipe left within a to-do's checklist to delete rows.
Selection tips
When it comes to selecting things, it's worth mentioning a few tips:
Clicking on a to-do will open it, just like when you tap with your finger. If instead you want to select the to-do, hold down Option when you click it.
To select multiple items, hold down Cmd or Shift when you click. Or, while in

multi-select mode

, click and drag downward on the dots to the right.
To deselect something, just click in an open space.
---
Today's update is all about the trackpad, but we'd be remiss if we didn't mention that Things also has excellent keyboard support. The app's entire interface is navigable at the touch of a key, and there are powerful shortcuts, too.
Together, the iPad, the Keyboard and the Mouse provide a truly wonderful experience for Things, and we can't wait to hear what you think!