Over the the past few months we've been working on Things 3.10, a big update with great new features for iOS 13 and iPadOS. It introduces Actions for Siri Shortcuts, Multiple Windows on iPad, Dark Mode integration, and more.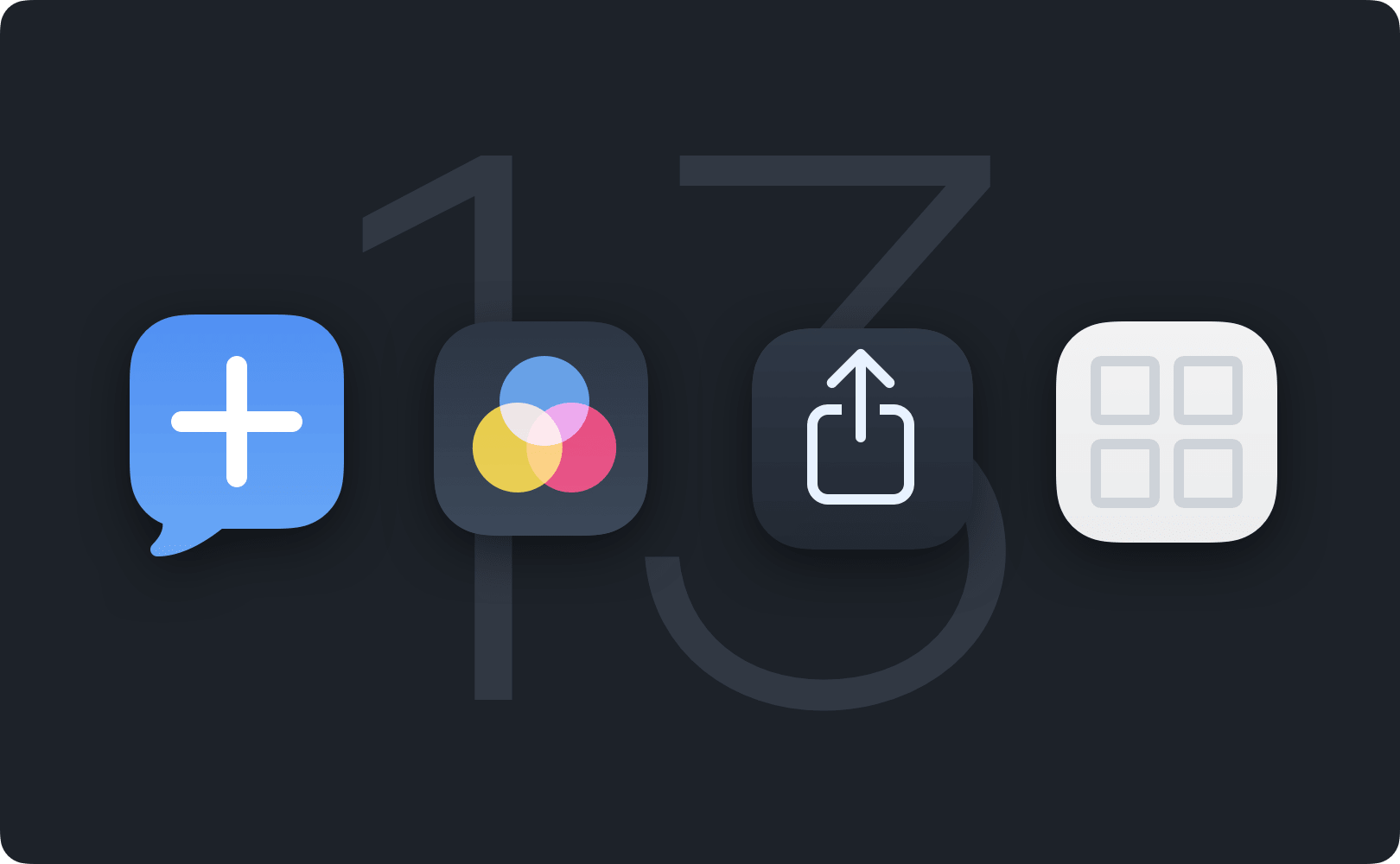 Today we'll focus on everything that's new for iPhone. The update for iPad will come on September 24 with the launch of iPadOS.
Siri Shortcuts
Siri Shortcuts has received a big overhaul in iOS 13 and you can do some cool new things that were previously not possible.
If you already know how the Shortcuts app works, by all means, jump right in and start playing with the new actions we've provided. There's a lot you can do!
If you've never created a shortcut before, you'll find a page in Things' settings with some suggestions to get you started. You can also create a shortcut directly from there.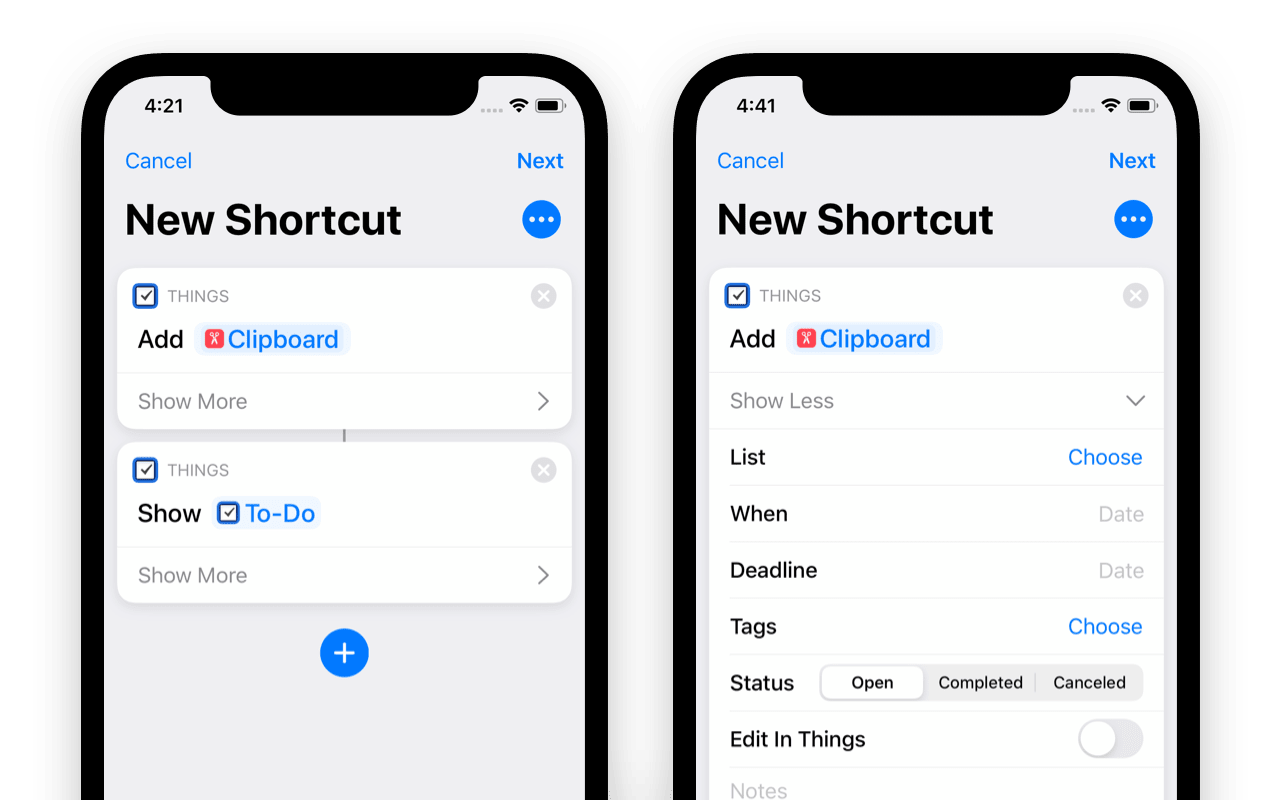 The true power of Things' new actions, however, will be unleashed in a few days when Apple enables a new feature called "conversational shortcuts". You'll then be able to have a conversation with Siri – while your shortcut runs – and dictate the title of your to-do, when you want to do it, and so on. Things 3.10 already includes support for this, and it will automatically become functional with iOS 13.1 on September 24. Stay tuned for a more in-depth exploration of what's possible.
Update: Conversational Shortcuts are now functional.
Dark Mode
Things turned to the dark side last year, but now that iOS has joined it, they shall together rule the galaxy and...
Ahem... Things now fully integrates with the new system-wide Dark Mode on iOS, which kicks in at sunset. Of course, you can override the system setting if you like, and you can still choose between a Dark or Black appearance.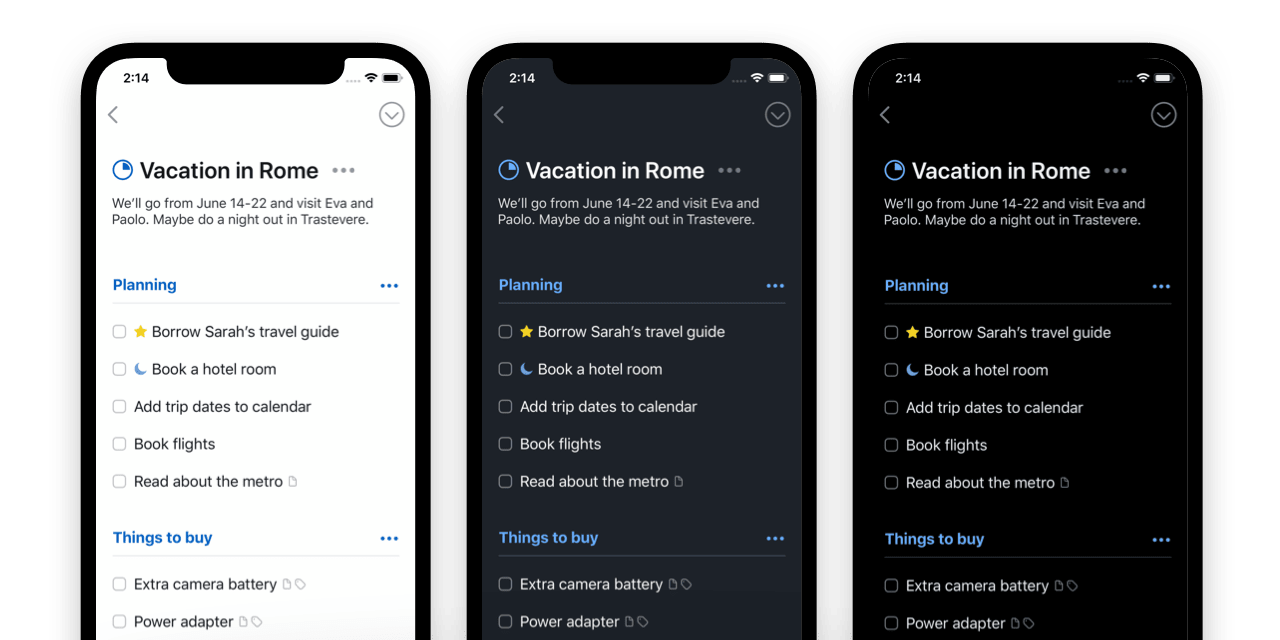 New Share Extension
We've changed the way you share to Things from other apps. When you tap the Share button, you'll now find Things in the row of colored icons. If you don't see Things, tap "More" at the end of the row to enable it.
You'll also notice it has a new look, and lets you directly choose a list to save your to-do in.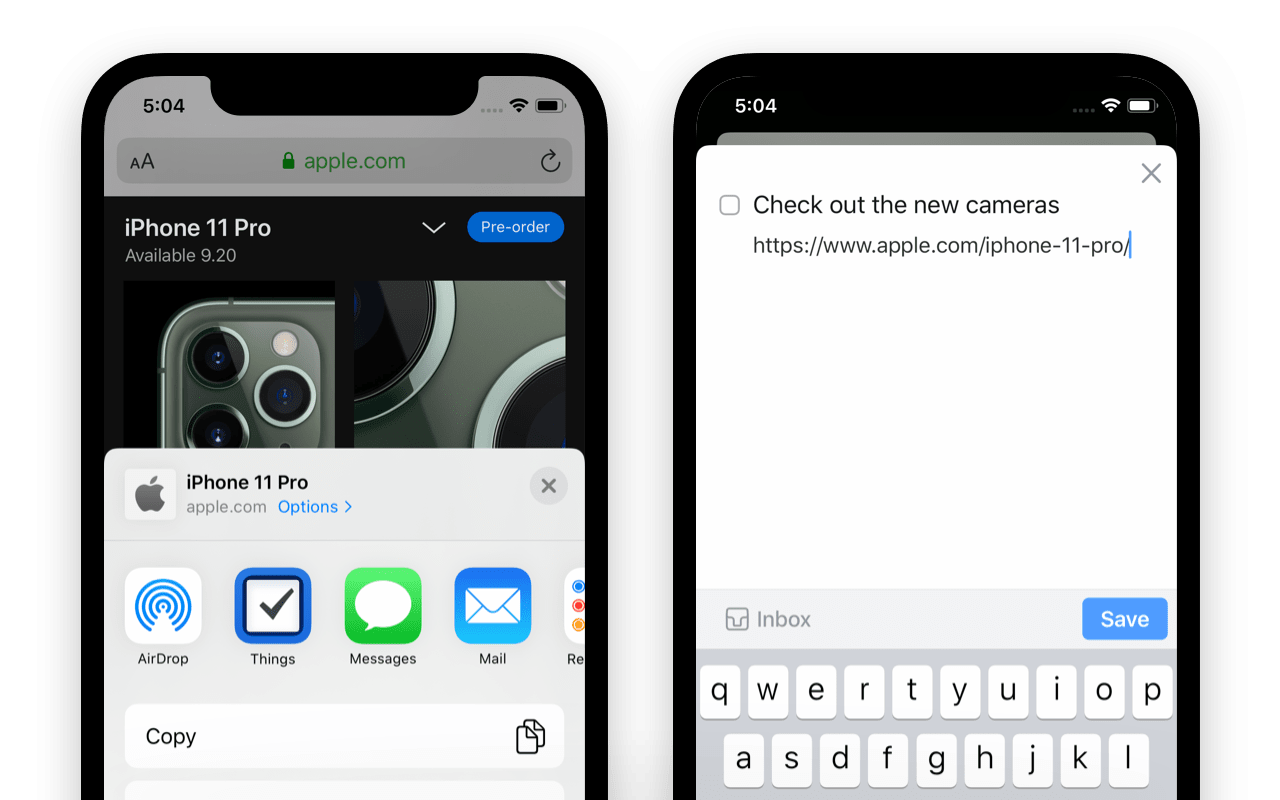 Accessibility Support
It's inspiring to see the effort Apple puts into accessibility features for iOS. VoiceOver can read out the interface for you, while Voice Control is the latest improvement for people with physical limitations. We've now overhauled many areas in Things to make sure they play well with both of these technologies.

And more
We've made sure that iOS 13's new text editing gestures work great (cut, copy, paste), as well as undo and redo. See Apple's documentation to learn more about how they work.
There's also a new Reminders importer to migrate all data from Reminders to Things, and we've overhauled the mechanism for displaying Reminders in Things' Inbox.
Finally, Things 3.10 works great on the new iPhone 11 models and the new Apple Watch Series 5. Things also now requires iOS 12 or later, and watchOS 5 or later.
---
Things 3.10 is available for iPhone now – we hope you enjoy it! Stay tuned for multiple window support, coming to an iPad near you on September 24.