Today's release packs 29 little features and improvements into one big update – it's Things 3.5, our "Spit & Polish" release. Available now!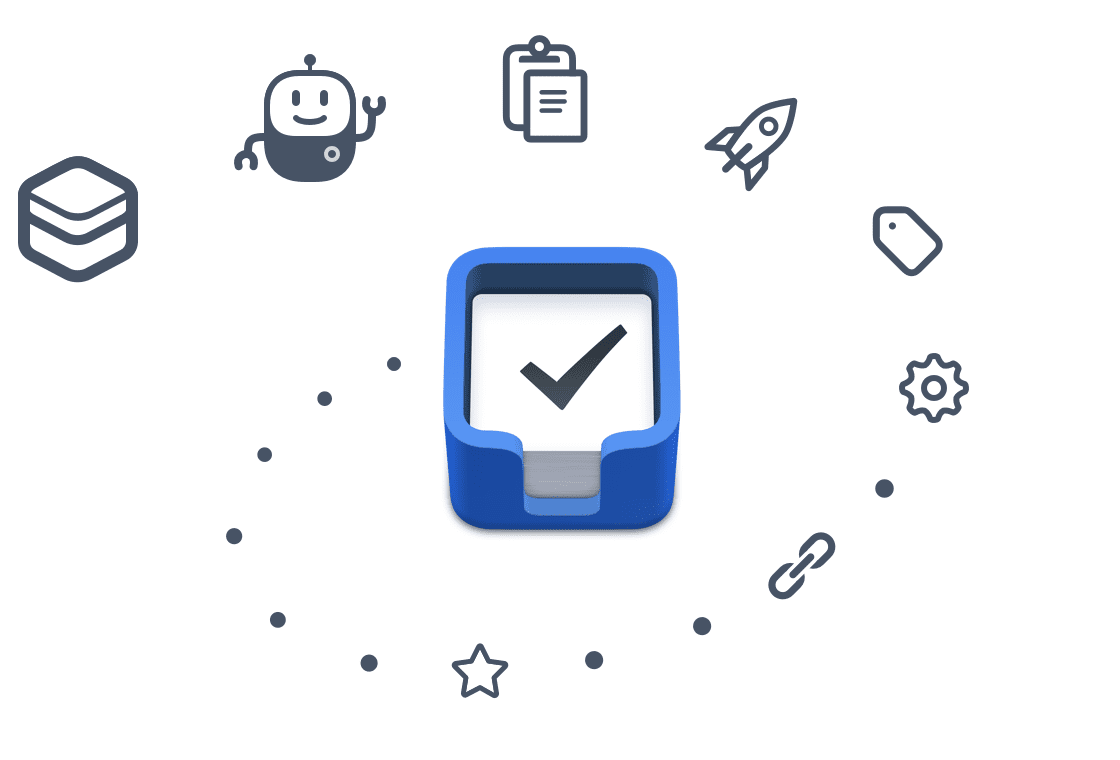 Things 3 has been out for a while now and we've received lots of fantastic feedback – thank you so much! For today's release, we took a close look at all your suggestions and revisited many areas of the app to polish it up. Let's take a look at what's new…
Collapsable Areas
Collapsable areas has been one of our most requested features. If your project list is super long – or if you just don't want to see work projects on the weekend – you can now collapse your areas to hide them.
Tagging Improvements
Applying Tags. The tag window on iOS is now searchable – just pull down and start typing. This makes it much faster to find the right tag in a long list.
Tag Searches. App-wide tag searches are now also broader. When you search for a tag, you won't just see items with that tag, but also items with tags nested under it.
Tag Filtering. A feature from Things 2 has also made a much-requested comeback: you can once again filter by "No Tag".
I/O Magic
It's now much easier to get data into Things. Here are a few new tricks:
Copy some text from another app, then switch to Things and paste it. Voila! A new to-do is created straight from the clipboard. Better yet, try pasting multiple lines of text; a new to-do will be created for each row of text.
It gets a little mind bending if you're using Universal Clipboard… copy some text on your Mac and then paste it into Things on your iPhone 🤯
Things is also smart when you paste multiple lines of text into the title field of an existing to-do: the first row of text lands in the title, and the rest is neatly tucked into the notes.
You can also drag some text from another app into a Things window, then let go.
Copy & paste now also works great inside of Things. On your Mac, simply copy a project, heading, or some to-dos and paste them into another list. If you're pasting into other apps, Things now nicely formats what you have in your clipboard as plain text.
Update Items via Things URLs
We were very pleased with the recent launch of Things URLs, which allow you to create to-dos in Things from outside the app. It's amazing to see all the workflows you've been creating!
One of the main features requested is a way to make changes to items that already exist. This is now possible, thanks to our new update commands. Check our documentation for the latest information.
Today Widget Improvements
The Today Widget now shows icons for checklists & reminders, a moon for items in This Evening, and progress pies for your projects.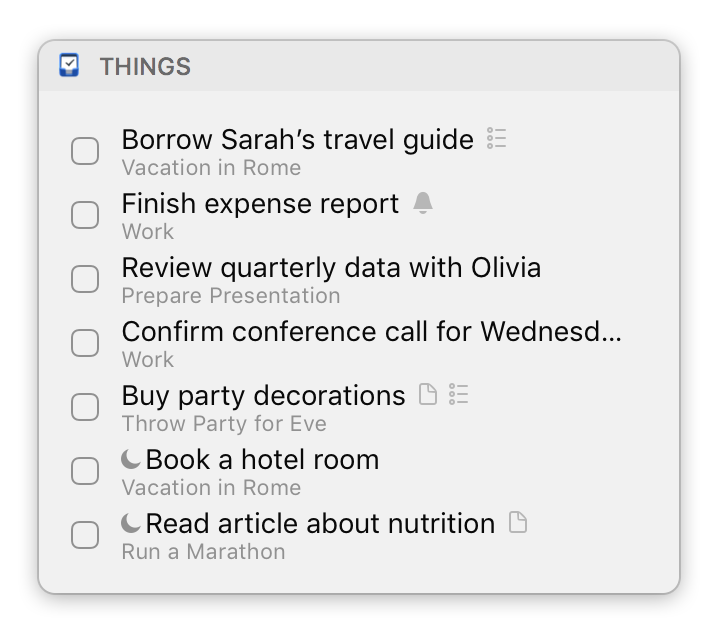 Performance Improvements
Large Projects. Some users have projects which are far bigger than the average – to the tune of 7,000+ to-dos! These projects load much faster now, and working inside them is much snappier, especially on iOS.
Repeating Tasks. The first time the app runs each day, it generates new repeating to-dos and projects. This is now much faster.
Links Everywhere
The app now handles links consistently in all places: inside the title, inside notes, and (finally!) inside checklist items. On both Mac and iOS.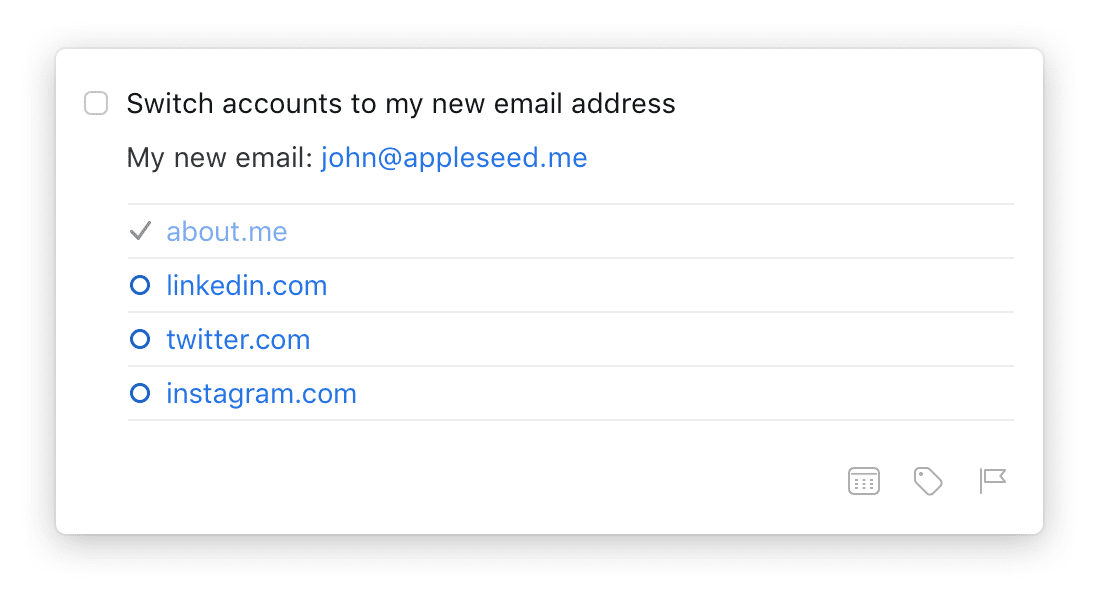 Better Settings
Redesign. The Settings screen on iOS is redesigned for more clarity.
Grouping in Today. Just like the Mac, iOS now allows you to change the layout of your Today list. You can sort your to-dos manually, or group them automatically by area or project.
Touch Bar. On the MacBook Pro, the Touch Bar is now customizable. You can move the buttons around, or remove buttons you don't want to see.
Improved Date Handling
Completion Dates. Up to now, the Logbook showed abbreviated dates for items far in the past. We've changed this so you can always determine the exact date of completion.
Calendar Events. In the Upcoming list, we've also improved how we handle events that span across multiple days – it will now show as an all-day item on each day of the event, rather than only on the day the event started.
Zapier Workflows
After we shipped our Mail to Things feature, the team over at Zapier started building a range of workflows that let you create to-dos from business tools like Slack, Trello, Basecamp, and more. These workflows are now available.
And more…
These are just some of the additions in Things 3.5. We've also tweaked the layout in full screen mode (Mac), added a Duplicate option for headings, and fixed numerous bugs.
---
Things 3.5 is available for download in the App Store now. We hope you enjoy these latest improvements!