Things 3.4 has just hit the store with three fantastic new features: Linking to Things, Powerful Automation, and Handover from other apps – all made possible by our brand new Things URLs.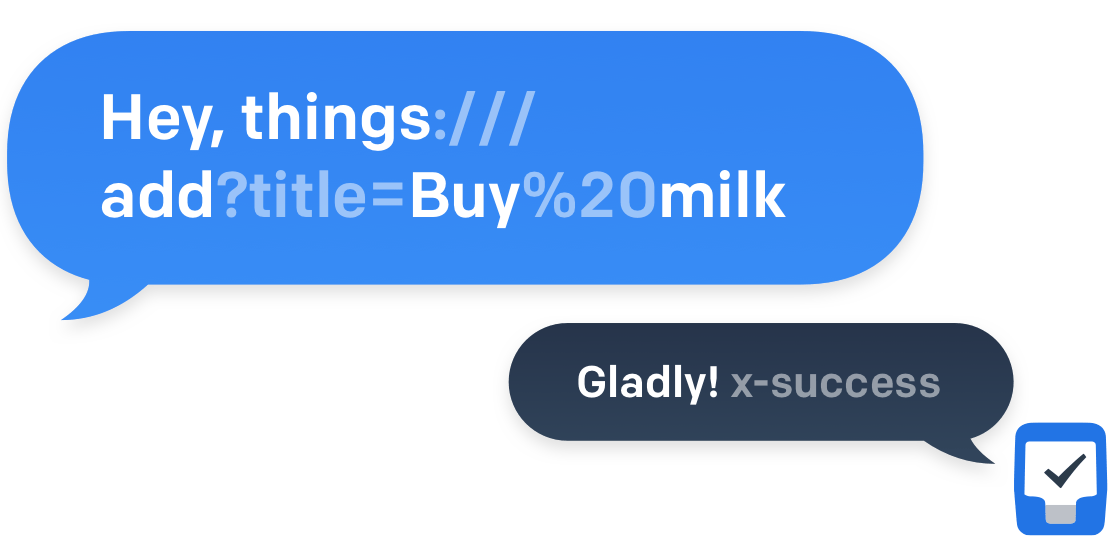 Things now supports a special kind of link (or URL) that starts with "things:". These links are just like the ones you use every day on the web, except they allow you to send a variety of commands to Things.
Here's an example: things:///show?id=today. Tapping this link will open Things and tell it to show your Today list. Try it now if you already have Things 3.4 installed.
These Things URLs enable three great new features. Let's take a look at what each can do!
Linking to Things
You've already seen how to link to your Today list, but you can link to any list in Things: Upcoming, Logbook, one of your projects or areas, and so on. You can even link to a specific to-do buried deep inside a list. Some examples:
Getting a link is really easy:
On your Mac, right-click any to-do – or list in the sidebar – and choose Share → Copy Link.
On iOS, in the top right corner of a list, tap → Share → Copy Link. For a to-do, tap to expand it, then tap → Share → Copy Link.
You can now paste the links anywhere you like. Manage a project in Things, but keep your writing or brainstorming in another app? No problem: paste your project's link into the other app and quickly jump back to it in Things. Of course, you can also link related to-dos and lists inside of Things itself.
Powerful Automation
Beyond using these links for simple navigation, they can also be used to execute a broad range of powerful commands from outside of the app – to create to-dos, show tag filters, perform searches, and so on.
Here are a few examples (if you've already updated to 3.4, you can tap to execute them):
Creating these commands yourself is a bit technical, but if you're adventurous and willing to experiment a little, they allow you to automate many of the things you frequently do. We've built a little tool to help you get started: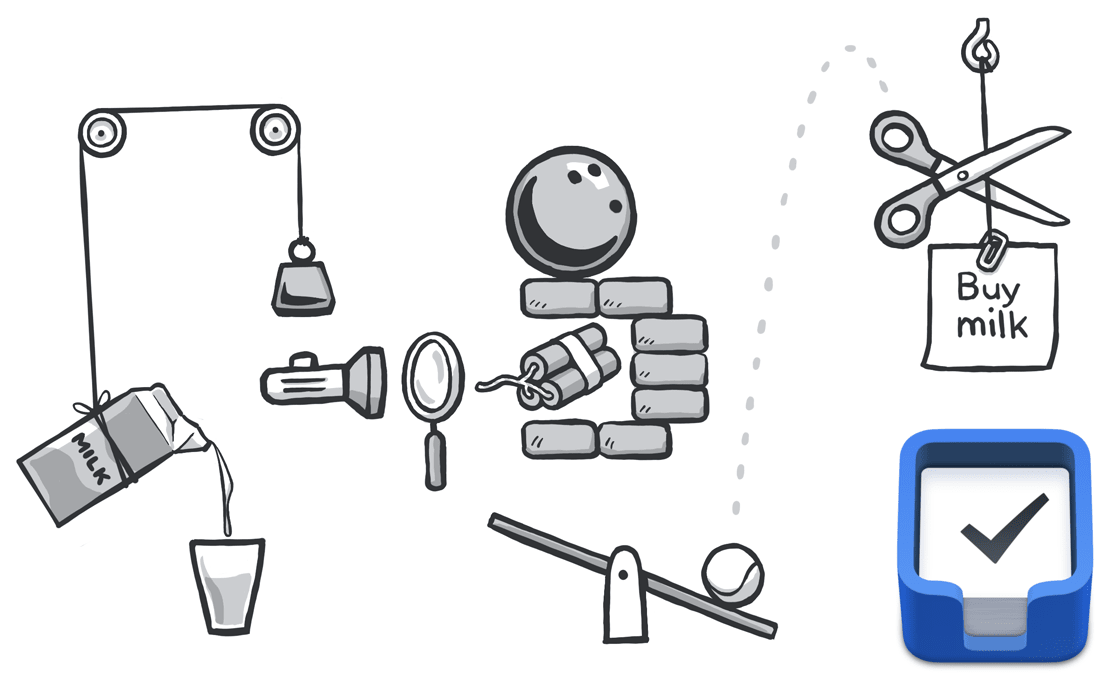 Once you've built your custom links, you can paste them into apps like Launch Center Pro or Launcher for easy access. Or you can use apps like Workflow to chain multiple commands and apps together into clever workflows.
Tech journalist Federico Viticci has been playing with this feature for several weeks already, and you can read about what he got up to over on MacStories. Also be sure to check out the workflows from the guys over at The Sweet Setup.
Handover From Other Apps
The final feature made possible by Things URLs is to create entire projects from other apps – complete with notes, headings, and to-dos.
The fantastic mind-mapping tool MindNode, for example, now allows you to brainstorm new ideas on an empty canvas and then "hand it over" to Things as a project when the time is right.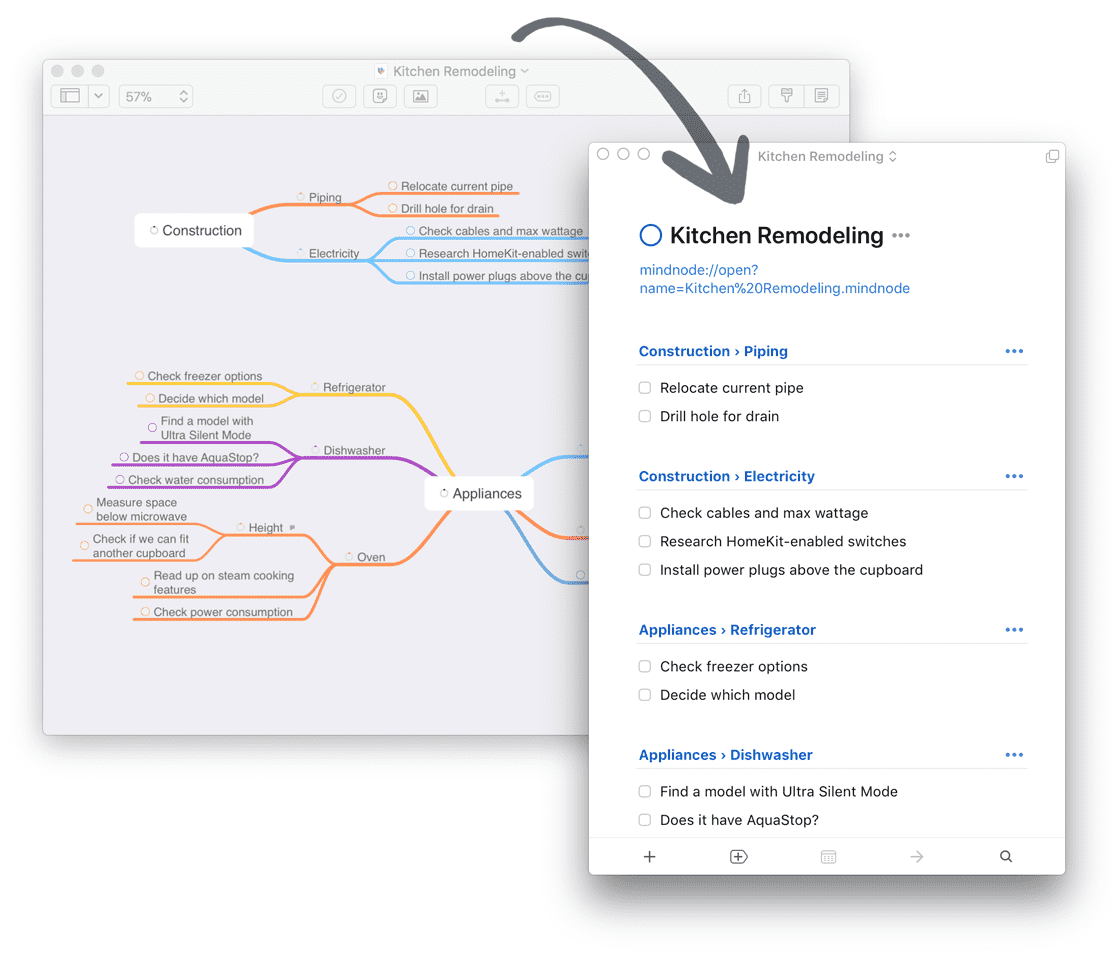 We're happy that Drafts has also built this feature into their upcoming version, and hope to see more apps with integration soon. Any other developers wanting to export data to Things can easily do so with our open source Swift library. Just have a look at our documentation.
---
Things 3.4 is available now as a free update for all our users. We hope you find some creative and useful ways to wield your new linking power! 🤓