We've just released Things 2.5 for iPad. It's a major update that includes a fresh new design, a new app icon, Handoff support, background refresh, and a convenient new "Add to Things" extension. There is also an update out today for iPhone with a few improvements.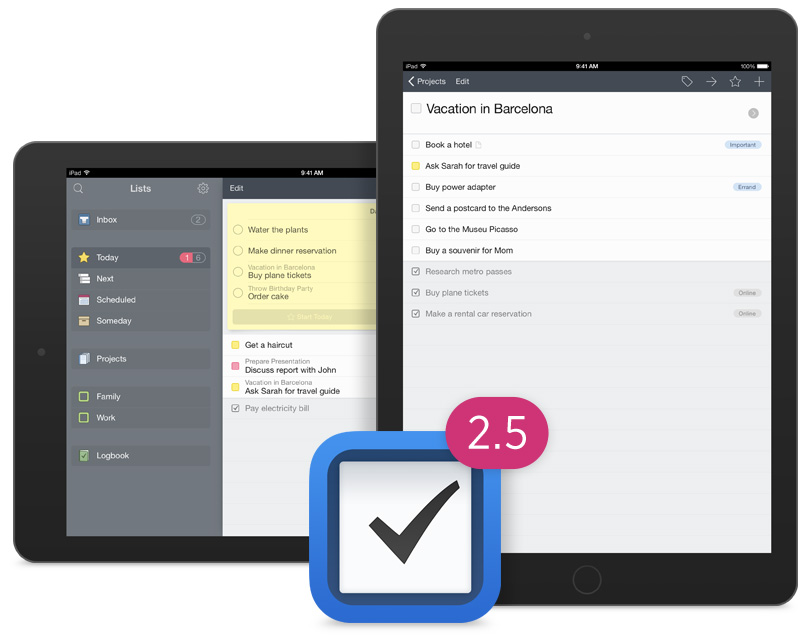 We've been getting a lot of positive feedback from everyone on our recent redesigns of Things for Mac and for iPhone—thanks a lot! We hope you'll also like today's update for iPad. Let's have a look at what's new in this release.
A Quick Tour
Things 2.5 for iPad is a refinement of the existing interface. Everything has been finely tuned with new custom artwork. You can see the transformation here: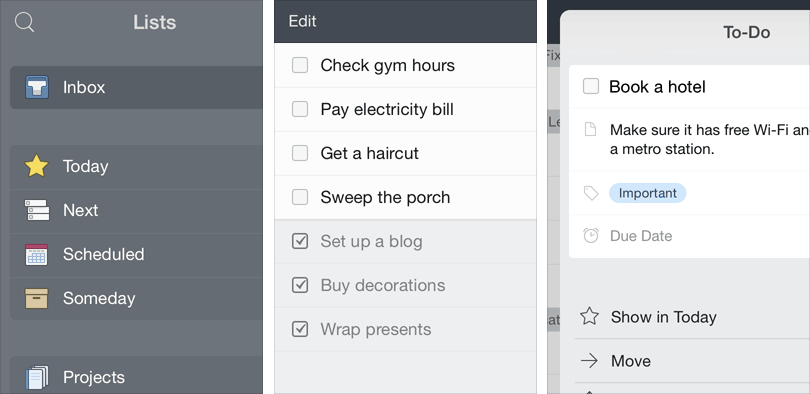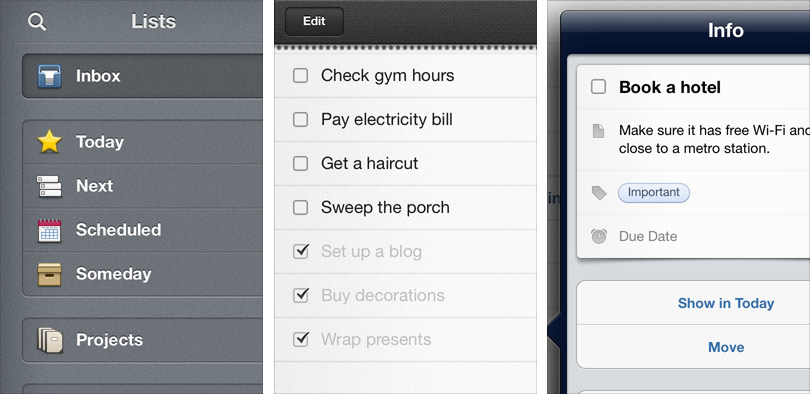 You'll also notice that we've traded the metaphorical project booklets for a normal list view. While this makes the design a little less playful, it's far more functional and makes it easier to manage your projects.
This update also includes a nice improvement to navigation: when you're holding your iPad in portrait, you can swipe in from the left to reveal your lists and quickly change to another view. This replaces the old popover from the previous version, and makes navigation a lot more intuitive.
Finally, we've built in a feature Apple calls background refresh. The app will now automatically update your to-dos in the background; i.e., it will generate your repeating tasks, move scheduled and due items into Today, sync with Things Cloud, and update the app's badge on your homescreen.
The New "Add to Things" Extension
The new "Add to Things" extension is definitely one of the best new features in Things 2.5. By closely integrating with system sharing, it now makes it easier than ever to get new to-dos into your inbox—a link to a website, a GPS location from a map, contact details from your address book—pretty much anything.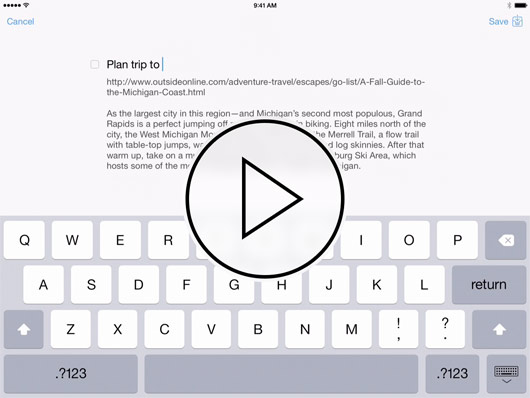 This feature is now available on iPad, iPhone and Mac. Any apps on your devices that support extensions can send to-dos into Things with just a tap. And, of course, Things Cloud will pass them seamlessly to your other devices in the background.
Handoff on All Devices
We already added Handoff support to Mac and iPhone a few weeks ago, so today's release for iPad makes the ensemble complete. It doesn't matter now which device you're on, you can immediately pull up the same project or area on another device with just a swipe.*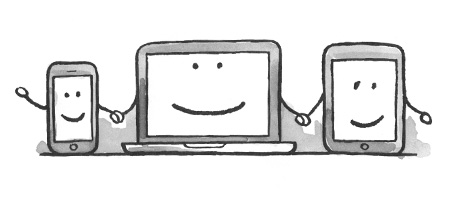 Things 2.5.3 for iPhone, Things 2.5 for Mac, and Things 2.5 for iPad are available for download now.
---
Two months ago we set out to revitalize all three of our apps. With the great new features, usability improvements, and custom design work in Things 2.5, these are the best apps we've ever shipped.
Next, we'll finish our work on Things 2.6 for iOS, which will introduce the Today Widget for iPhone and iPad. Stay tuned!