We've just released Things 2.5 for iPhone, bringing full compatibility with iOS 8. It includes a fresh new design, a new app icon, and a great new "Add to Things" extension.
First we want to walk you through the changes in Things 2.5. Then we'll share our plan for the months ahead, including some news about Things 3.
A Quick Tour of Things 2.5
When you install the update, the first thing you'll notice is the beautiful new app icon.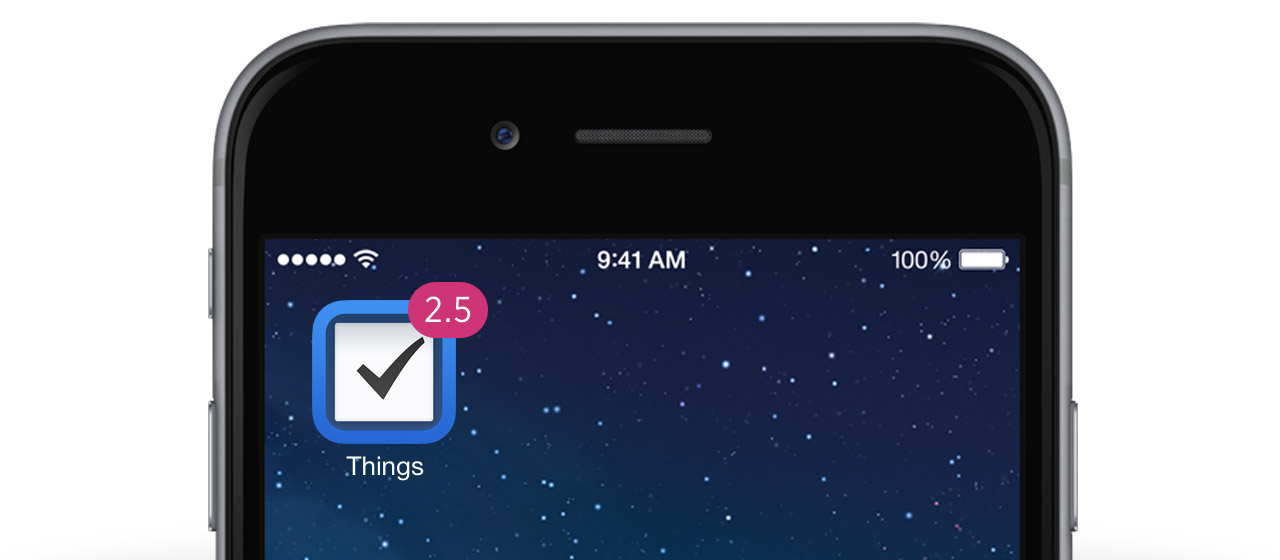 When you open it up, you'll see an interface that feels familiar, yet looks quite different. We've removed superfluous ornamental elements, adjusted the fonts, and updated almost all icons and graphics. Here's what it looks like: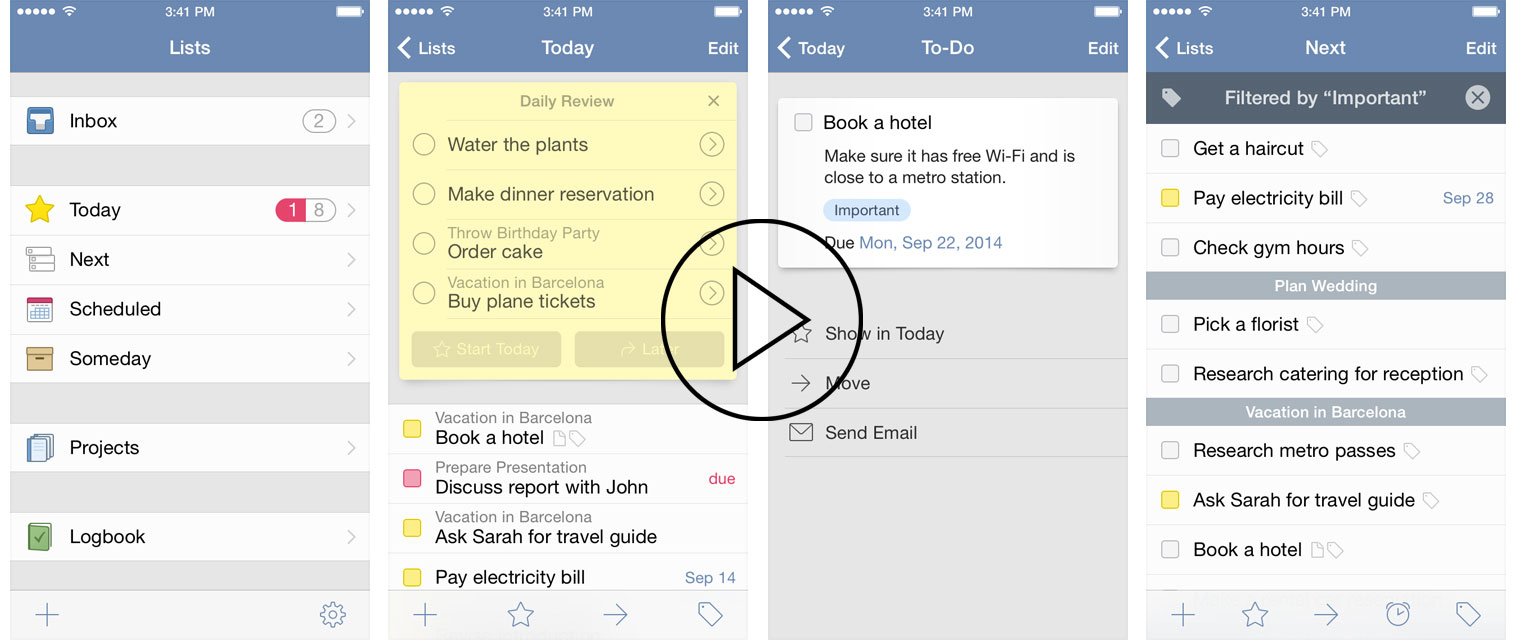 Things now also supports the swipe-back gesture for easier navigation, as well as the new keyboard. (Finally!)
We've also built in support for a feature Apple calls background refresh. Things will now periodically launch in the background and make sure your to-dos are up to date; i.e., it will generate your repeating tasks, move scheduled and due items into Today, update with Things Cloud, and update the app's badge on your homescreen.
Things 2.5 also brings full 64-bit compatibility for the iPhone 5s, 6, and 6 Plus.
The New "Add to Things" Extension
One of the features our users absolutely love in the Mac version of Things is Quick Entry with Autofill. Say you're browsing the web and you stumble across some information you want to act on later. You can simply select the relevant text, invoke a keyboard shortcut, and a new to-do is saved to your inbox with that information—all without ever leaving Safari.
With iOS 8, the very same thing is now also possible on iPhone. You can see it in action here: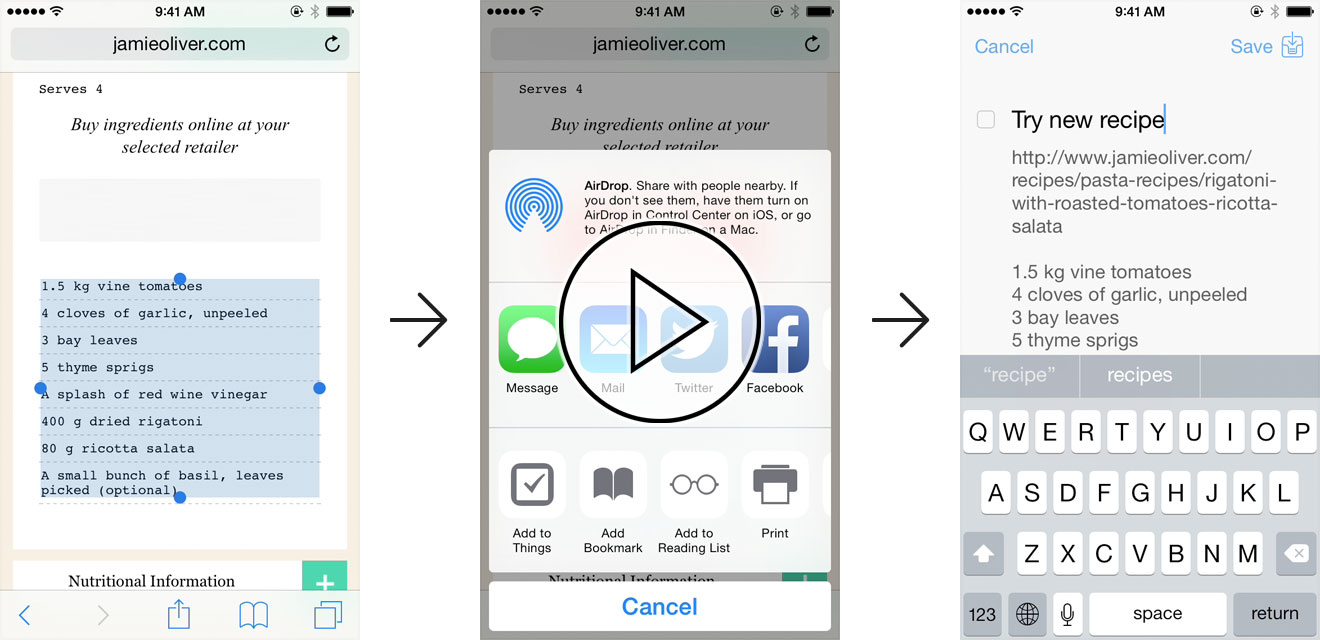 Note that this is not limited to Safari. Other Apple apps that already work great with this feature are Notes, Maps, Contacts, Podcasts, and the various stores (App Store, iTunes Store, iBooks Store, etc.).
As third-party developers start to adopt iOS 8, the list of apps that can "Add to Things" will grow, and we're very excited about the new workflows this will enable.
Things 2.5 for iPhone is available for download today.
---
Our Plan for the Months Ahead
Today's release is a slight change of plans. Things 3 is still taking some time to finish and we want to give it the time it needs, but we also want you to have a great app you can use today — especially with the great new features iOS 8 enables.
Most importantly, Things 2.5 for iPhone finally introduces a visual refresh which was long overdue (our original plan was to ship a new UI with Things 3). We're sorry to have kept you waiting.
We have a new development plan we'd like to share with you. Here's what to expect in the coming months:
Bug fixes for Things 2.5

We'll be keeping our eye out for any bugs that might arise, and ship fixes as they become available.

Today Widget

Yes, this is another great iOS 8 feature that seems like it's made just for Things: the ability to see your Today list right inside Notification Center. Our implementation is coming along nicely and we're happy to show you a sneak peek right now. Beta testing of this feature will start very soon and we'll blog again when it's ready.

iPad Version

We're currently integrating all the enhancements of Things 2.5 into the iPad version as well, so expect some updates in the coming weeks that include the "Add to Things" extension, Today Widget, background fetch, and 64-bit support. Visually, it won't be such a big change as the iPhone version, but it will receive some polish. In the meantime, Things for iPad has already received a 2.3 update to ensure it continues running smoothly on iOS 8.

Mac Version

We'll also polish Things for Mac for the upcoming release of OS X Yosemite. Yosemite is currently rumored to be shipping in late October, so expect a Things Mac update and blog post next month.

Things 3 Private Beta for Mac

Even though our development plan for Things 3 has been pushed back by the recent changes, we're expecting to start a private Mac beta of Things 3 with our core group of testers at the end of November. The iOS versions will join when they're ready, and we'll gradually expand our tester pool as the beta progresses. We'll have more info on this once the beta starts.
---
We hope you'll like the fresh UI and new features that have shipped today in Things 2.5 for iPhone. As usual, you can visit our Status Board to stay up to date on our latest developments.