After our recent Things 1.2 release, we got quite a bit of feedback on the new features. With today's release of Things 1.2.2, we attempt to address the most frequent requests and bug reports.
For example, you can now disable Spotlight indexing. We also made it possible to enable or disable either of the two Quick Entry keyboard shortcuts independently. With these new options, we needed to reorganize the General pane to keep Things' preferences simple and uncluttered: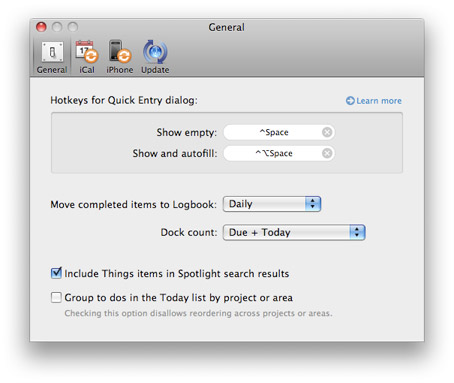 To enhance consistency with the new autofill feature, we added the ability to drag multiple emails and also cards from Address Book into the notes section of a to-do. Autofill now also works with Microsoft Word 2008. Unfortunately we couldn't add support for Entourage or Evernote due to their lack of the necessary AppleScript support.
There are many other fixes and small improvements like better compatibility with Japanese input methods, better French localization, a keyboard shortcut reference directly accessible from the Help menu, and fixes to the plug-in syntax. Please refer to the release notes for a full list.