Tuesday, June 9th 2009 was a special day for Cultured Code. You might have already heard about it if you are following us on Twitter. During the week of June 8th, Apple held its annual World Wide Developers Conference (WWDC) in San Francisco.
This year, an unbelievably large crowd of more than 5000 developers went to the Moscone West conference center to get the latest scoop on Snow Leopard and iPhone OS 3.0, along with meeting Apple engineers and bombarding them with questions.
The evening of the second day of WWDC is traditionally reserved for celebrating the winners of the Apple Design Award (ADA). The trophy is a very elegant cube with a transparent Apple logo that lights up when you touch the cube: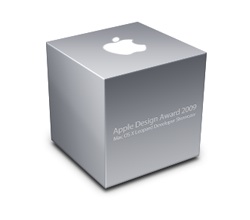 Receiving an ADA is the dream of every Mac and iPhone developer. While not as glamorous as the Oscars - we are developers after all! - the significance of the ADA for the Mac community is not unlike that of an Oscar for the film industry.
Before we flew to San Francisco, we tried to convince ourselves that we had an actual chance of winning, but our hopes dwindled when we sat among thousands of other developers that Tuesday evening. With so many other contestants, receiving an ADA felt virtually impossible. But it happened! When Things was announced as a winner, we all shared a frozen moment in time - it was a dream come true.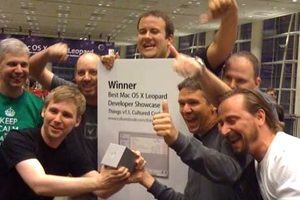 Being awarded a prize for design excellence from a company like Apple means an awful lot to us. We are happy and proud; but most of all, it is an encouragement to continue to do the best job we possibly can.