If you haven't yet worked with the people feature in Things before, version 1.1 is the perfect opportunity to try it out. The new way delegated tasks are handled in Things 1.1 is much more flexible and also works much better when you sync with the iPhone or iPod touch version of Things. But lets start at the beginning.

For any person in Address Book, you can create a list in Things by choosing "Add Teammate..." from the File menu. If you have also stored the IM addresses of your teammates in Address Book, Things will automatically show their IM status in the sidebar: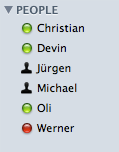 For each teammate, you can now create a list of items you are waiting for them to complete. You can think of these tasks as being delegated to the respective person.
Previously, when you dragged an item - say from the Next list - onto a person in Things' sidebar, the item was removed from the Next list and shown in the person's list instead. This makes perfect sense since this item is now delegated to another person and hence, no longer your task. There is simply no other choice than to remove it from your next action list. Considering that the Next list has a tendency to grow very long anyway, every task not there is a good task. Or is it? In fact, many months of experience has told us differently!
There is another way to look at delegated tasks. Even though you have handed over the task to someone else to complete, you still have to make sure that the task gets done and that the results will meet your expectations. Some time after you delegate a task, you may want to be reminded to check whether or not it has already been completed successfully. In some cases, you may even want to get in touch with your teammates more often to check whether it is necessary to provide them with more help or information.
When you delegate a task, there are two aspects:
The task that your teammate is supposed to complete, and
Your responsibility to make sure that results are returned.
Previous to version 1.1, the behavior of delegated tasks in Things was modeled to capture the first aspect. We have now decided to give the second aspect precedence. Now, when you drag an item from the Next list to a teammate, it will show up in the teammate's list, but it still stays available in Next as one of your responsibilities. Of course, after delegating a task, at least for some time, there is nothing you can do about it. Hence, it shouldn't appear in your next actions list. What you can do now is to drag the task to the Scheduled list (works for tasks that are not part of a project) and enter a date in the future when you expect the task to be completed by your teammate. When that date arrives, Things will show your task in the Today list to remind you to check back with your teammate.
For complex delegated tasks that take a substantial amount of time to complete, it is now possible to combine start dates (Scheduled list) and due dates. You can use the due date to specify when the task needs to be completed at the latest. Due dates are often determined by external requirements beyond your control. By using the start date (Scheduled list) on the other hand, you let Things remind you to get in touch with your teammate to discuss intermediate results, or evaluate whether the due date can still be met. Then, you can reschedule the task based on the results of your discussion to make sure you will get back to your teammate in a timely fashion, ensuring results are delivered as expected.