Even though Halloween was yesterday, we still have a treat for you! An updated preview release of Things which includes a feature many of you have been asking for: global searching.
That's right --- now you can search for anything, anywhere.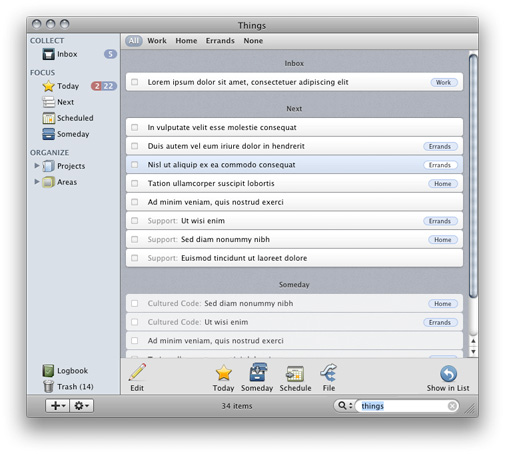 Global searching makes selecting a specific search type even more powerful. Confine your searches to only find items with certain criteria, like a specific tag. Simply click the magnifying glass icon in the search field and change your search preference. You can focus your search by only titles, notes, or tags, or search for all of these properties.
This way it is now possible to list all items with a certain tag!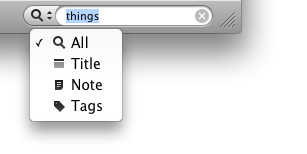 If you're observant, you will notice a new icon in the toolbar when search results are displayed. This new button will show the selected task in its original list. For example, let's say you have an item which is part of a project. Clicking "Show in List" will display the project, highlight the item and even scroll to it if it is not already visible.

Of course, an update wouldn't be complete without a little polish. We've made it so the selected due date button's color now follows the Appearance settings in System Preferences. As you would expect, select Aqua or Graphite and Things will do the right thing.

As you can probably tell, Things development is accelerating as we get closer to our official release at Macworld Expo 2009. We are all very hard at work to make the official release worthy of the 1.0 moniker, and there are still more updates to come. Keep following our blog for continued updates and thanks as always for your kind words and encouraging support. :)