We have just released new versions of our Things Cloud beta apps. These updates will allow you to import your to-dos from the regular version of Things into the beta.
If you haven't done so already, now is a great time to try our Things Cloud beta for yourself. All the data you import and enter during the beta will continue to be available once the final version of Things Cloud is released.
How to Import Your To-Dos
First update your beta apps to the newest versions on all platforms.
Now use either your Mac or iOS device to import your data. On the Mac, go to File > Import Database… and follow the on-screen instructions. On iOS, make sure that beta mode is enabled, then go into Settings and tap "Import Regular Database".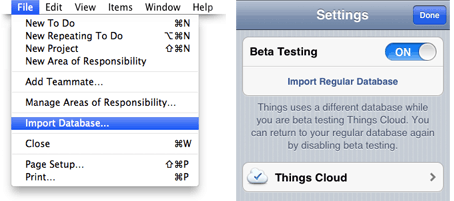 For more detailed guidance on the import process, please view this page.