Sync for Things 2 will stop working on February 29, 2020. This page explains why, provides a timeline of upcoming events, and includes information on how to continue using Things.
You've probably arrived on this page because you're still using Things 2. That's amazing! It makes us very happy to know you've enjoyed version 2 for so long (it came out eight years ago!) and we want to thank you for being such a dedicated user.
To sync your to-dos, Things 2 regularly connects to our Things Cloud servers. Unfortunately, the time has come to discontinue Things Cloud support for Things 2. So we have some very important news:
Things Cloud support for Things 2 will be discontinued on February 29, 2020.
You can keep using Things 2 after that date, but it will not sync anymore.
To continue syncing, you need to upgrade to Things 3.
On March 31, 2020, any accounts which have not been upgraded to Things 3 will be removed from our servers.
---
---
Why is sync being discontinued for Things 2?
Things Cloud was introduced with the launch of Things 2 in 2012, and we have continued providing sync for 8 years. However, since we no longer sell that version through the App Store, we have no way to release maintenance updates. This means that a sync bug we discovered on iOS 13 cannot be fixed for anyone running the old version. Soon, we also want to make changes to Things Cloud which are not compatible with the old version. For these reasons, we have decided to wind down support for Things 2.
If you want to continue using Things 2, you can – the data will remain on your devices. You just won't be able to keep your devices in sync after February 29, 2020.
---
To keep syncing, upgrade to Things 3
You can upgrade to Things 3 today. This will ensure that your data keeps syncing across your devices. Plus – you'll be able to enjoy all the great new features.
If you're upgrading from Things 2, Things 3 will require a purchase. Here are the links to the App Store:
Things 3 requires:
macOS 10.13 or later
iPadOS 12.1 or later
iOS 12.1 or later
watchOS 5 or later
Please make sure all your devices can run these operating systems before you purchase Things 3.
Can I get a discount on Things 3 if I own Things 2?
Due to the way the App Store works, there's no way to offer discounted pricing for only some people – it only allows us to lower the price for everyone. However, if you bought Things 2 on or after March 1, 2017, please contact us (with your proof of purchase) for a free upgrade.
If you have a Mac and would like to test Things 3, you can install the trial version. Unfortunately, we have no way to offer trials for the mobile apps at this time.
The app is sold separately for each device. There is no way to bundle them into a single purchase.
---
Migrate your data to Things 3
The process for migrating from Things 2 to Things 3 is quite simple:
Open Things 2 on all your devices to ensure your latest changes have synced to Things Cloud.
Purchase Things 3 and install the app.
Log in to your Things Cloud account from Things 3.
(If prompted, choose "Keep all to-dos".)
When you log in to Things Cloud from Things 3, your to-dos will automatically migrate over for you. Need help?
Your Things Cloud account will also be upgraded to support the app's new features, so you won't be able to sync it with Things 2 anymore.
After March 31, 2020, any accounts which have not been upgraded to Things 3 will be permanently deleted.
---
What's so great about Things 3?
If you haven't tried Things 3 yet, you're in for a real treat! There are literally dozens of excellent new features and improvements for you to enjoy. And did we mention the beautiful new design?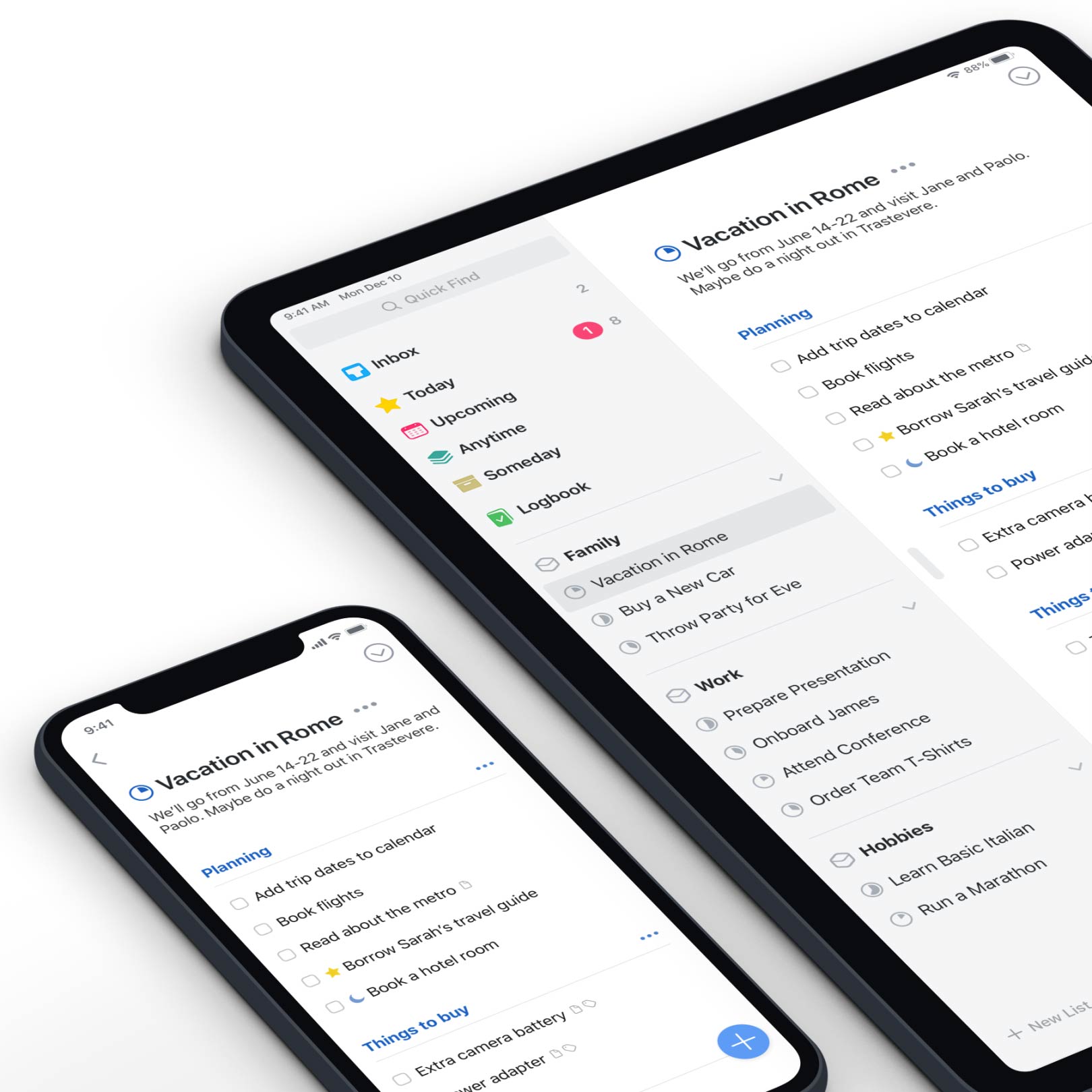 Here are a few of the improvements you can enjoy after you upgrade to Things 3:
All-New Design

— brand-new and polished to perfection.

Dark Mode

— a beautiful new Dark Mode for working at night.

Calendar Integration

— see your events and to-dos together.

Headings

— break long projects down into smaller parts.

Checklists

— break to-dos down into incremental steps.

This Evening

— set some of your to-dos aside for later in the day.

Reminders

— set a time and Things will remind you.

Natural Language Input

— start typing the date and Things will understand.

Siri & Reminders

— tell Siri what you need to do, or import from Reminders.

Siri Shortcuts

— powerful actions for the Shortcuts app.

Mail to Things

— send emails to Things to convert them into to-dos.

Type Travel

— just start typing the name of a to-do or list to navigate there.

App-Wide Filtering

— find to-dos instantly by searching for a tag.

Improved Sidebar

— nest projects under areas; see their progress at a glance.

Slim Mode

— hide the sidebar to focus on your work.

Multiple Windows

— open multiple lists on your Mac or iPad and drag & drop between them.

Keyboard Support for iPad

— full keyboard accessibility and dozens of powerful shortcuts.

Things URLs

— a powerful URL Scheme for creating to-dos or viewing lists.
---
What exactly will happen when sync is disabled for Things 2?
On February 29, 2020, nothing will happen to the data stored locally on your device running Things 2. You will still be able to open the app, view your to-dos, and use the app as normal. But the app will no longer sync with Things Cloud.
One month later, on March 31, 2020, any accounts which have not been upgraded to Things 3 will be permanently deleted and all data will be removed from our servers (but not your device!). This is in keeping with GDPR and other privacy guidelines on the handling of digital data. After that date, you will no longer be able to migrate your data automatically; you will have to re-enter it manually.
If you would like your Things Cloud account to continue working after that date, simply upgrade to Things 3 and log into it.
---
Can I export my data?
If you decide against upgrading to Things 3 and want to stop using Things altogether (we'd be very sad to see you go!) it's possible to export your data from Things 2. Please see this page for more info.
---
Need help? Contact us!
Once again, we want to thank you for being such a dedicated user of Things over the past years and we want to do what we can to make your transition to Things 3 as easy as possible. If you have any issues or questions, please contact us and we'll be glad to help you.
---